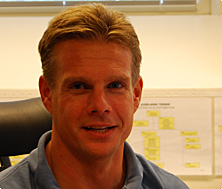 "Through this agreement, we expect to be able to increase the availability of the paper machines by minimizing unscheduled roll-related shutdowns," says Daniel Peltonen, Technical Manager at Holmen Paper Hallsta.
A unique roll service agreement was signed at Holmen Paper's Hallsta mill in Sweden on June 22, 2011. "We have exceptionally high expectations for this agreement – and I'm not just talking about the quality of roll grinding and improved maintenance. We also hope it will have positive effects on productivity," says Daniel Peltonen, Technical Manager at Holmen Paper Hallsta. "It will be extremely interesting to follow the development of this concept. It's incredibly important that we all pull in the same direction and really cooperate with one another, as we want the end result to be a proper win-win situation. Like any other mill, we're looking for ways to gain control over and reduce maintenance costs, with one of our main objectives being to reduce the overall costs of roll servicing. Through this agreement, we expect to be able to increase the availability of the paper machines by minimizing unscheduled rollrelated shutdowns. The roll service agreement is also designed to give us access to expert resources and the latest developments in paper machine maintenance. And as we have been forced to reduce staffing levels at the mill, the remaining workforce needs to be organized as efficiently as possible. This cooperation agreement is one way of meeting staff requirements."
Valmet will take over roll grinding
"So far, we've taken care of all roll grinding at our own roll workshop, but as things stand today the machinery needs to be modernized," continues Daniel Peltonen. "To run a roll workshop successfully, it must be cost-efficient and have a sufficient volume of work. So we were faced with having to decide whether to upgrade the grinding machines to the latest standard and invest in new equipment, or whether to find other solutions. We calculated that the best course of action from a financial perspective would actually be to send the rolls to Valmet's* (Metso (Paper) until Dec. 31, 2013) roll service workshop in Borlänge, where they have the latest technology to perform 4-point measurements and 3D grinding. For us, the most important consideration when improving roll servicing is to improve the quality of the grinding work."
Valmet personnel on site
"We will have three men based at the Hallsta mill," explains Mikael Nyman, who manages Valmet's Service Centers in Scandinavia. "It opens up fantastic opportunities for us to work more closely with the mill, enabling us to quickly identify any problems they might be having. Our maintenance engineer will serve as an important link between Valmet and Hallsta, providing support for the mill's own maintenance personnel. Valmet's workforce will also include two maintenance technicians, whose main duties will be to take care of on-site mechanical roll maintenance. "This approach is the best solution in terms of optimizing costs and avoiding unnecessary roll transportation. However, larger service jobs and basic maintenance will be carried out at the Karlstad roll workshop, where all necessary resources are available."
What is it that makes this agreement so special?
"The concept of suppliers to the paper industry stationing their own personnel at mills has been around for a while. For example, Valmet has personnel at paper mills in several sites around the world. But in Sweden this way of working is less common," says Mikael Nyman. "However, it does seem as though mills are increasingly warming to this idea, as the benefits of such cooperation become clear. "There will be very close cooperation with the mill as a whole, and with Hallsta's operation and maintenance personnel in particular," sums up Mikael Nyman. "In order for us to play our part, we will need a clear understanding of Hallsta's needs and wishes, and it feels really exciting to take on this role and see how we can together develop our teamwork further. We hope and believe that it will prove rewarding for all parties involved."
The roll service agreement came into force on September 1, 2011, and will run for three years.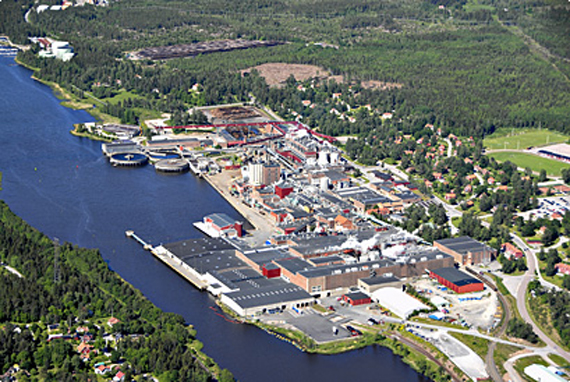 ( *Metso (Paper) until Dec. 31, 2013)