"Proactive maintenance shows as low maintenance costs and reduced unplanned downtime in the long run," notes Markku K. Salo, manager of Sales and Operation Development at Valmet. "Unfortunately, we still see too much of the traditional method where a mill or plant relies on warranties from equipment suppliers for the first few years and doesn't pay attention to preventive maintenance. When the warranty period ends, availability often falls and problems start to emerge, which result in extra costs."
Salo compares it to cars. "If you buy a new car, you certainly will not neglect its scheduled maintenance, because you want the car to keep you on the road. Strangely enough, with industrial investments that are worth billions, people tend to do just the opposite: wait until the equipment fails."
A criticality analysis reveals maintenance needs
Valmet helps its customers establish and improve their maintenance operations through its expertise in both maintenance and computerized maintenance management systems (CMMS). The work includes creating a maintenance plan, uploading it to the customer's CMMS, as well as collecting and linking the maintenance plan, spare part information, drawings, bills of materials, documents and machine cards. The maintenance plan is always based on a criticality analysis of the probability and consequences of failure.
"Using our combination of machinery, automation, process and maintenance know-how, we rank the equipment-based production loss, maintenance costs, safety and environmental effects, and mean time between failures," Salo explains. "The most critical equipment needs continuous condition monitoring, whereas the least critical equipment can be run to failure without any effect on productivity."
In most cases, about 20% of components are considered critical and 20% are not so critical. Maintenance actions on the remaining 60% are carried out case by case.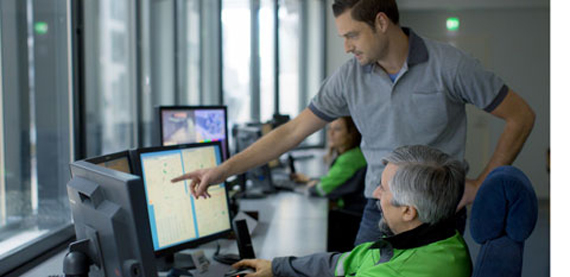 Systematic maintenance plans for all equipment
Valmet creates a maintenance plan based on the criticality analysis that itemizes and schedules all preventive maintenance action, such as inspection, lubrication, maintenance and overhauls, and vibration monitoring. For each piece of equipment, this maintenance plan describes what needs to be done, when it should be done, and who does it on a daily, weekly, monthly or annual basis. A life cycle plan for all equipment is also included.
"If key process indicators show that some equipment needs maintenance earlier than scheduled, the necessary actions will be carried out immediately," Salo explains. "As process conditions change, the maintenance plan has to be updated every two to three years."
A CMMS in top-notch condition means that once a problem is identified, maintenance technicians can easily locate the failure and find the documentation they need. This facilitates troubleshooting and locating necessary spare parts, resulting in the shortest possible downtime.
"Traditionally, all this information is found in various supplier manuals lying around somewhere. In the worst case, the information is purely empirical and can be found only in the head of somebody who is not present at that moment," adds Mikko J. Lehtola, a project manager from Mill Valmet's Maintenance Services. In a CMMS, access to all vital information is immediate.
Early planning brings the best benefits
Valmet provides maintenance planning services either on a support or outsourcing basis for both greenfield and brownfield mills and plants. According to Lehtola, the best results are achieved on new production lines where the customer has outsourced all their maintenance to Valmet.
The earlier maintenance planning is involved in the investment project and process engineering, the better. As the main equipment supplier, Valmet is able to take maintenance needs into account in preparing the process layout, writing the maintenance instructions and compiling equipment documentation.
"A modern mill or plant often has high-tech equipment whose maintenance requires expertise. Reading a maintenance manual is simply not enough to solve problems. If critical components are left without maintenance after start-up, it can lead to a catastrophe," Lehtola says. "This is what maintenance planning in CMMS definitely prevents – which saves money in the long run."