By converting double-felted cylinders in the fourth and fifth dryer groups to single-felted cylinders, Lee & Man was able to improve the runnability and shorten the threading time of its PM 15.
Lee & Man Paper Manufacturing Ltd ranks among the leading paper companies in China. Its Dongguan Hongmei mill is the home of PM 15, a Valmet-supplied board machine started up in 2011. Originally, the group had intended to build the machine in Vietnam for the production of kraftliner in a basis weight range of 120–250 g/m2. However, in 2010, there was a change in plans, and the group eventually built PM 15 in Hongmei, China, to produce low basis weight grades of 100–140 g/m2.
Due to the challenging packaging paper market, Lee & Man wanted to start
producing paper of below 100 g/m2. Unfortunately, trials resulted in poor machine runnability and a high number of breaks during production. A rebuild of the dryer section seemed to offer a solution, and the mill chose Valmet for the job.
The targets for the rebuild were to improve production efficiency, produce lower basis weight fluting and liner under 100 g/m2, decrease the number of breaks, and cut unplanned shutdown time.
Upgrades, modifications and new installations
Valmet converted the fourth and fifth dryer groups from double-felted to
single-felted cylinders. Valmet upgraded the cylinders to Valmet Dryer Vac Rolls1 by drilling and grooving them on site, resulting in better runnability. The roll geometry was optimized and the mechanical drives modified, and the rebuild also included new Valmet Web Stabilizer SR 2 blow boxes and pocket ventilators.
To improve web stabilization and cleanliness in the first, second and third dryer groups, Valmet upgraded the existing web stabilizer SR blow boxes and improved tail threading with Valmet Tail Threading Single Fabric B3 and doctoring by installing an innovative Valmet Doctor Holder Compact4. Valmet's scope of supply also included installation and erection supervision, commissioning, and start-up support.
All targets achieved
In April 2013, PM 15 was started up successfully after a ten-day shutdown.
According to Li Guofu, PM 15 Production Manager, the machine was able
to produce 70–90 g/m2 fluting in the very first month after the rebuild, with nearly 3% better efficiency than previously. Sheet breaks in the pre-dryer section fell by 60%, and unplanned shutdown time by 30%.
"The machine had only ten web breaks when producing 70–90 g/m2 fluting at a machine speed of 1,000 m/min," he continues. "Our targets for the rebuild – better runnability and short tail threading times – have been completely achieved! We are happy to have made the right decision."
SymRun upgrade brings significant energy savings
"Lee & Man is the paper and board market leader in China, and we therefore have a strong responsibility to reduce CO2 emissions," points out Chen Liming, Senior Manager of the Project Department at Lee & Man.
During the technical clarification phase, Lee & Man and Valmet reached a common understanding about reducing electricity consumption in the dryer section and related air systems. "We have been paying much attention to energy consumption ever since the project kick-off meeting. As a result, the fan power of supply air after the web stabilizer SR blow box upgrade has decreased by about 30%, while the vacuum level has improved. This has all been made possible thanks to Valmet's technology," Chen Liming explains.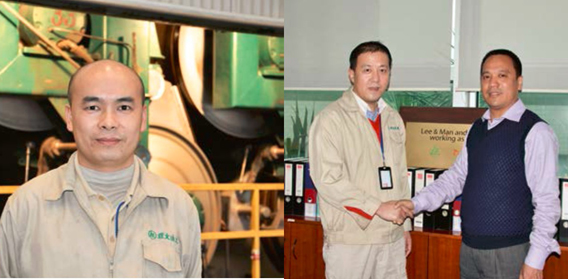 | | | |
| --- | --- | --- |
| Li Guofu, PM 15 Production Manager: Through a conversion from double-felted to single-felted cylinders in the fourth and fifth dryer groups, Lee & Man was able to significantly shorten break time on PM 15. | | Chen Liming, Senior Manager of the Project Department, Lee & Man (left) and Zhang Yanchuan, Director of Mill Improvement, Valmet China, shake hands following the successful project. |
Bright future ahead for PM 15
After the dryer section rebuild, the future looks bright for PM 15. "We are very confident that Lee & Man Hongmei will now be able to deliver fluting to the
market in a full basis weight range," remarks Chen Liming. "Moreover, after the dryer group rebuild, there is less web shrinkage, resulting in a wider web than before. We are now studying whether this wider sheet will allow us to make more sellable paper."
1 earlier known as VacRolls
2 earlier known as SymRun
3 earlier known as SingleForce Plus
4 earlier known as LiteCompact