Dec 4, 2015
The demands placed on paper and board machine clothing are high, as the fabrics have to support the smooth operation of the entire production line. Dryer fabrics also need to withstand high temperatures, high fabric wear risk caused by mechanical seals and rolls, as well as high-pressure cleaning up to 600 bars.
Valmet Dryer Fabric OR for single felted groups (earlier known as OptiRunner) was developed with modern drying sections and devices in mind. "It has a smart double warp system to optimize efficiency and save more energy in one of the most energy-intensive applications of a paper machine," explains Juha Paavolainen, Product Manager for Forming and Dryer Fabrics at Valmet.
A durable double warp system
In the drying section, mechanical seals are placed 10–15 mm from the fabric, leading to a significant risk of abrasion. Modern seals are a vital energy-saving factor, but they require more durable dryer fabrics. "Durability has been the cornerstone of Valmet Dryer Fabric OR development. Its smart structure works in harmony with modern blow boxes, and we've been able to bring additional energy savings and improved runnability to our customers," says Paavolainen.
Maximizing running times
The smart single-layer structure consists of two separate yarn systems – one on the paper side and one on the non-paper side. If one layer wears out, the other remains intact. The strength of the fabric is about 200 kN/m (approx. 1,100 PLI), making it extremely wear- and jam-resistant, with strong warp loop seams that can hold up to 50 kN/m. Compared to traditional fabrics, Valmet Dryer Fabric OR extends running times and fabric lifetime by an average of 15%–30%.
Less downtime and stronger seams
With a caliper of 1.5 mm, Valmet Dryer Fabric OR is also thinner and lighter than its predecessors, making it easier to install. Its durable structure also means less downtime and fewer unplanned shutdowns. Paavolainen explains: "We put a lot of effort into the seamability of the fabric, since the point of discontinuity is always the weakest link in dryer fabrics. In Valmet Dryer Fabric OR, this area has been rimmed so that the warp loom seam structure is stronger when in contact with mechanical seals."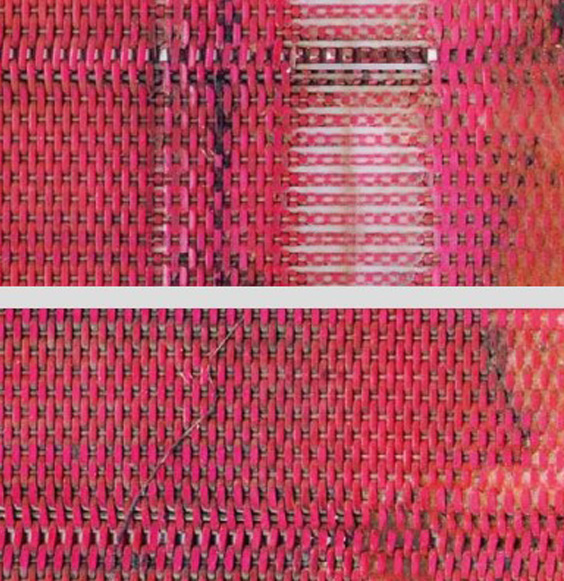 Savings potential in improved efficiency
What's even cleverer about the double warp system is its high contact area. Other suppliers' fabrics can guarantee a total contact area of 30%–40%, whereas Valmet Dryer Fabric OR adds up to 51%. This significantly improves drying efficiency.
"Both sides have similarly low air carry surfaces. This results in improved sheet control and reduced total fan energy costs, because less air is carried into the blow box pocket area," Paavolainen explains. As the drive power demand is lower, total annual energy savings add up to EUR 100,000 on a six- or seven-meter-wide machine. "In relation to other sections, the potential for dryer fabric savings is huge," Paavolainen notes.
Developed for the customer
When developing Valmet Dryer Fabric OR, quality and safety were key factors. "We use durable, non-toxic yarns. When choosing Valmet, our customers get a high-quality product and our expertise at their disposal," Paavolainen says. In the end, customers want their dryer fabrics to simply run without problems. "All our innovations are based on customer needs. Special attention has been paid to easy installability, reduced energy consumption and maximized running times," Paavolainen says.
Originally published in Forward customer magazine 3/2015