Aug 3, 2015
Visualizing mill repairs through wireless measurements, smart phones, smart glasses and cloud computing will revolutionize maintenance prediction and lower costs.
Augmented reality may become a new reality for pulp and paper mill maintenance departments. That means on-the-spot visualization and solution of just-beginning maintenance problems, anywhere from the chip conveyors to the wrap line.
Using this futuristic-sounding technology, a maintenance technician could be directed by a smart phone handset or "smart glasses" to the exact location of a mechanical component, valve or process measurement in need of a maintenance check. A maintenance history of that specific component would appear on the screen or glass lens and an in-situ diagnostics test, thermal image or vibration analysis from wireless sensors can be initiated. If trouble is noticed by a cloud-computing analysis, more detailed device-specific information, a repair manual or a supplier help center could be accessed.
This is all done hands-free without having to go back to a control room or maintenance shop. The real benefit is that important communications are easy, real-time information is easily accessed in a normally noisy mill environment where hearing protection is mandatory and there is no need for information terminals. As a result, a repair can be made quickly and accurately. Ultimately, repairs could be predicted and planned well before failures happen, and that would have a big impact on plant reliability and production uptime.
These intelligent maintenance applications are now being developed by Valmet and tested at a mine site and a power plant in Finland. The aim is to implement these maintenance tools for all industrial plants, including pulp and paper mills. They sup-port Valmet's strategy to make maintenance activities more effective and lower cost by utilizing intelligent products, tools and services.
Winning races and winning maintenance
The diagnostic intelligence derived from wireless sensor signals comes from a cloud computing network where measurements of machinery, control valves or electronic transmitters are transformed into insightful information so that a repair technician can make an immediate repair for good reasons. As an example of this cloud computing power, the Lotus Formula 1 racing team is using Microsoft cloud-based software to monitor and analyze signals from more than 200 wireless sensors in its race cars. The objective is to make fast and sure adjustments and win races. In a pulp and paper mill, the maintenance department wants to increase process uptime while reducing maintenance costs. Winning races and winning maintenance – both important objectives.
Extended reach
There is sound and justifiable reasoning behind these developments. The maintenance of a complex and widespread mill is a daunting, time-consuming and costly task. Nevertheless, it is critical for profitability to ensure that the operation is running at top efficiency with minimal disruptions and no costly failures. Most importantly, worker safety must be ensured. To achieve high equipment availability, it is vital to detect faults early in their development, schedule maintenance and carry out repairs before production is affected. This information access needs to be easily and intuitively operated so maintenance tasks and decisions are fast, decisive and cost effective.
The problem is that there are thousands of active maintenance points spread out over hundreds of meters in a mill site. These include valves and field devices that are required for operating the process efficiently and safely and mechanical maintenance points that need periodic checking to ensure they are not showing imminent failure patterns. The new portable user interface extends the reach of hard-wired systems (that usually consist of a few hundred monitored points) to thousands of accessible points. The sensors can be placed during a scheduled maintenance round and can be relocated at a later time.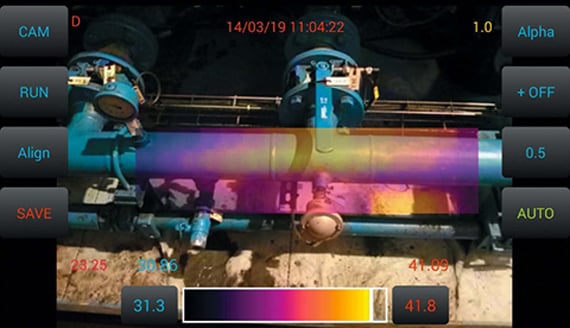 Fusion of technologies
The applications make the best use of a number of enabling technologies and standards, including magnetic navigation technology, low-power wireless machinery condition sensors, low-power wireless Bluetooth communications or other wireless protocols and cloud computing access via a Wi-Fi connection to the Internet. To be practical as a data collection and concentration application in an existing mill network with a DCS, fieldbus interface and diverse field devices, a common, universal interface is required.
The current mobile maintenance application is being developed with a standard protocol using OPC UA. It can be built up from subsystems with their own OPC UA servers and information can be aggregated to a higher level. The OPC UA itself can be installed on top of different operating systems like Windows and Linux and even on Android. This design provides a secure way to interact with information provided by sensors and devices from different network topologies.
Portability extends capability
The functional concept is simple. A maintenance worker's interface will indicate a daily task list determined by a computerized maintenance management system (CMMS). The user interface then guides the worker through the complex plant to the device to be inspected. The new navigation technology is based on reading a magnetic signature that is unique to a building's structure. The magnetic signature of the plant interior can precisely locate a serviceable monitoring point, so there is no more hunting around and wasting time. It also benefits newly hired technicians and third-party maintenance contractors who may not be familiar with the plant's complex layout.
The handset or smart glass interface dis-plays data from a portable measuring device that is temporarily installed on the casing of a pump, motor, bearing or other component. This portability is a low cost way of extending the maintenance monitoring capability within a plant. The cloud analysis of the current condition and maintenance history of this component shows whether service is needed or not.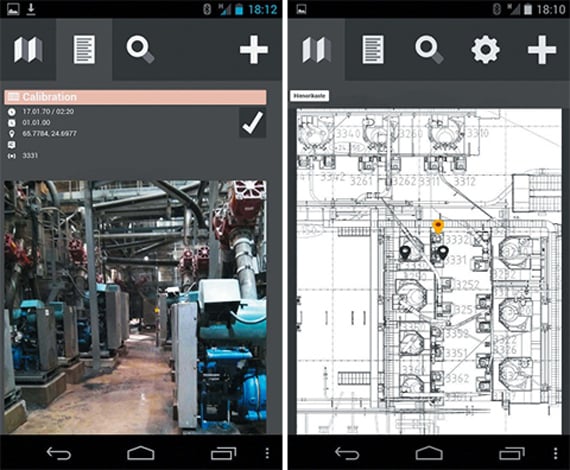 Intelligence in the cloud
Low-energy mechanical condition sensing is a cornerstone of the new mobile maintenance application. These miniscule micro electromechanical (MEMS) sensors analyze transient elastic waves created by sudden redistribution of vibration related stress in a material. Typically, a condition monitoring point includes vibration and temperature measurements. This capability can be extended to include miniaturized measurements of acoustics (for leak detection), light emissions, humidity, pressure, and magnetic and gyroscopic fluctuations. As power consumption of these sensors is low, battery life can be up to four years and there are no worries if the battery is getting low since a "change battery" message is created.
The intelligence derived from the raw sensor signals comes from the cloud computing network where the signal spectra and other condition monitoring techniques, like envelope analysis, is performed. That analysis turns a raw signal into actionable intelligent information.
Valmet is also working on the integration of thermal imaging into the application. This will give the maintenance worker extra insight into mechanical problems that might be hidden with only the visible view of equipment.
Optimizing mill uptime
This low-cost and expandable maintenance monitoring and diagnostic application promises to extend a plant maintenance department's analysis and service task capability to include many process equipment points that were not feasible before due to high cost. It also streamlines the management of the regular maintenance route by quickly directing a worker to maintenance task point and making an intelligent assessment of the component's condition.
This multi-dimensional application will give end users and maintenance managers the capability to integrate live data and equipment status with historical data in order to predict maintenance needs and plan maintenance activities in the most effective way to optimize plant uptime and minimize costs.
For more information: Mika Karaila mika.karaila@valmet.com