Customer case:
Papel San Francisco's new tissue line reached 2200 m/min in seven days
Nothing could stop the fifth Valmet tissue machine installation in Mexicali, Mexico from starting up recently. Even though the ongoing pandemic prevented Valmet to be on site during the installation phase, the new Valmet Advantage DCT tissue line produced its first tissue roll according to specification and schedule. And only seven days later the machine was up and running at a speed of 2,200 m/min.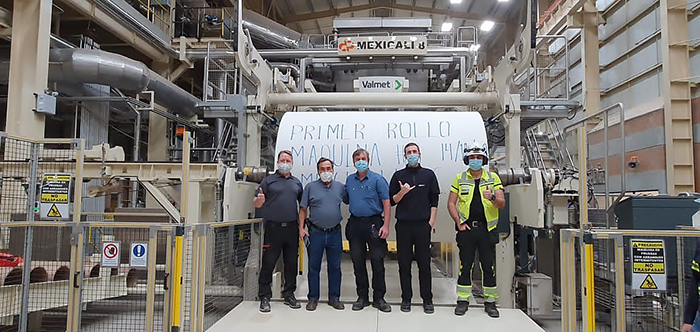 Our philosophy is to go for low energy consumption and lowest possible emissions to air and water. The Advantage DCT technology is the most efficient and best choice for the grades we will produce. With this new tissue line, we expect to produce the best tissue quality combined with the lowest energy consumption
Papel San Francisco (FPS) is a very experienced customer and a pleasure to work with. From Valmet we supported the installation remotely from Karlstad, Gorizia and Thunder Bay. All aspects were well planned, and the mill team were highly skilled and committed to achieving optimal performance
Summary
Location
Papel San Francisco Mill, Mexicali, Mexico
Solution
New installation of Advantage DCT 100TS tissue machine, including Advantage ViscoNip press
Results

This is the fifth Valmet machine installation at the mill in Mexicali and the Advantage DCT machine was selected due to its energy efficiency even at high speed production.

The machine reached 2,200 m/min within seven days and åaper specifications were fulfilled from day one.

Running as fast as possible has been part of PSF's strategy ever since the start of their first tissue machine. Their machines are continuously running at high speed and the previous installation of TM 7 in 2017, reached 2,000 m/min in 48 hours.

Key words
Tissue making, New lines, Advantage DCT, Mexico
Technical data
Technology
Advantage DCT 100TS Tissue machine
Width
2,8 m
Design Speed
2,200 m/min
Annual capacity
30 000 tons
Delivery scope

Valmet Advantage DCT tissue machine including:
OptiFlo II TIS Headbox with dilution
Advantage ReTurne turbine
Advantage ViscoNip press
Advantage Yankee cylinder (cast alloy)
Advantage AirCap hood
Advantage WetDust dust control system
Commissioning and start-up
Customer information
Papel San Francisco started up their first tissue machine in 1980. In the past 40 years the company has grown steadily and are today operating seven tissue machines with a yearly capacity of 204,000 tons of tissue products.