Customer case:
Baoding Yusen Lianoning Mill successfully started up an new tissue machine
On October 18, 2020, a Valmet Intelli-tissue® EcoEc Premium (TM2) tissue machine delivered from Valmet to Baoding Yusen Health Supplies Co., LTD was successfully started up in Taian Base of Liaoning Province. The contract of this project also included a second twin tissue machine, which has now been installed and is scheduled to start-up soon.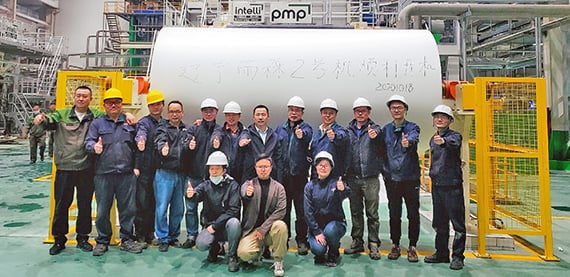 Mr Zhao Zhancheng, the general manager of Yusen Mill, said: "Yusen Company aim to develop from a higher starting point . After years of in-depth communication with Valmet (the former PMP tissue machine), we trust the mature technology of Valmet Intelli-Tissue® EcoEc Premium line's low energy consumption and high quality. During the implementation of the project, the two parties communicated smoothly, and I believe that a close partnership will bring us both a broader prospect
Since the 12th Five-Year Plan, Valmet Changzhou factory has actively responded to the government's call, taking the market as its orientation and customer performance improvement as its responsibility. Valmet Intelli-tissue® EcoEc Premium Line is the latest solution based on the expectation of improved tissue quality for future markets, as well as the customers' goals of saving energy and reducing production costs. The smooth start-up of the tissue machine project will definitely help further expand the market of Yusen Paper in northeast China and even the national market, and realize the strategy of " co-prosperity and co-development" of Yusen Paper, Valmet and downstream customers
Summary
| | |
| --- | --- |
| Location | Baoding Yusen Liaoning Mill, Taian Base of Liaoning Province |
| Solution | Valmet Intelli-Tissue® EcoEc Premium tissue machine with mechanical/electrical drive system, lubrication system, DCS system and other auxiliary systems. Design, erection, start-up & supervision and other services were also included |
| Results | Valmet Intelli-Tissue® EcoEc Premium line utilizes many cutting-edge technologies to achieve a perfect combination of "first-class tissue quality" and " -low operating energy consumption". Moreover, it has a wealth of operating references in the Asian market, covering leading papermaking enterprises. Mass production data proved that: CD basis weight profile steam consumption is 1.9 tons/ton, and electricity consumption is only (flow + tissue machine + vacuum system), which will help Yusen Paper industry to realize its big enterprise blueprint of "co-prosperity, and co-development". |
| Keywords | Tissue, New lines, China |
Technical data
Grades
Tissue
Basis weight
10-25 g/m2
Reel trim width
3500 mm
Design speed
1600 m/min
Annual capacity
30,000 tons
Delivery scope

Valmet Intelli-tissue® EcoEc Premium
including:

Valmet Intelli-Jet V® Hydraulic Headbox
Valmet Intelli-Former® Crescent Former
Valmet Intelli-Press®
Steel Yankee Dryer with Valmet Intelli-Cap®
mechanical/electrical drive system
steam and condensate system
lubrication system
DCS and other auxiliary systems
Design
Installation, supervision and start-up
Baoding Yusen Health Supplies Co., LTD
Baoding Yusen Health Supplies Co., LTD is a large producer and service provider focusing on tissue, nursing and hygiene products and medical products. The company has a series of advanced high-speed paper making equipment, automatic paper processing equipment and professional production equipment for sanitary supplies, medical supplies, as well as high-quality modern enterprise management personnel, forming a set of product research and development, production and sales as one of the modern enterprises. Relying on the three brands of "Yusen", "Baili" and " Water Gentle ", the company has a series of products in three categories, such as tissue, nursing and medical products, and disposable medical products. Hundreds of small categories have been well received in the national market, especially becoming a strong brand in the regional market north of the Yangtze River.
In the face of the ever-changing product and market, Baoding Yusen Health Supplies Co., LTD, adjusting and optimizing industrial layout, stick to play to regional advantages, expand the scale of the industry on the original production base in north China, build Liaoning production base in northeast area, promote the intelligent manufacturing upgrading, achieve high quality development, and constantly introduce advanced production equipment, expand product diversification, consolidate the foundation of the enterprise, rapidly and steadily expand the scale of production, make Yusen brand more competitive in the market.