Customer case:
Metsä Group Äänekoski - Key technology for Bioproduct mill
Metsä Group's bioproduct mill in Äänekoski was started up on August 15, 2017. Valmet's delivery to the mill included a recovery boiler, pulp drying line, gasification plant, lime kiln, sulfuric acid plant, and mill-wide Valmet DNA automation system. The bioproduct mill takes pulp production to a new level. In the mill, every single bit of the wood raw material and production side streams are utilized to achieve maximum material and energy efficiency.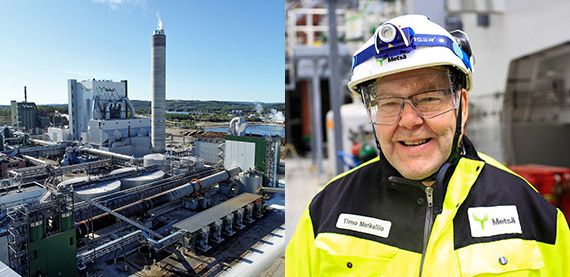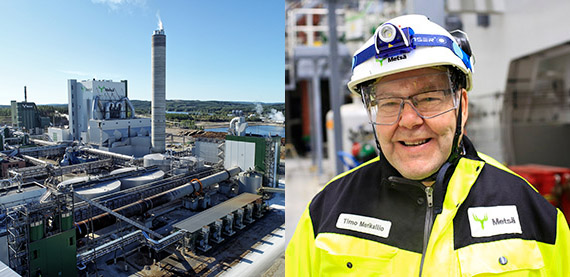 Throughout the project Valmet has been a good and innovative partner when building the world-class bioproduct mill in Äänekoski.
Summary:
Location

Äänekoski, Finland

Customer challenge

The old pulp mill had started production in 1985 and was therefore approaching the end of its operating life cycle. Metsä Group

The new Äänekoski mill is called a bioproduct mill since it is increasing the product portfolio with new bioproducts, generating excess bioenergy, and using no fossil fuels.

high quality market soft wood and hard wood market kraft pulp
use only renewable energy
utilize all side streams
meet tight emission limits

Solution

New pulp mill with key technology from Valmet:

Biomass dryer and gasification plant:

Biomass dryer utilizes mill waste heat
Valmet Gasifier - producing prodcut gas from birch, pine and spruce bark

Fossil fuel free solution using gasified biomass

Procuding sulfuric acid from mill's own NCGs

Pulp drying and baling line:

Mill wide automation:

Results

The project was a success with the bioproduct mill coming into operation on 15 August 2017 - 7 minutes before the original plan. The mill reached its nominal capacity in August 2018.

Keywords
Chemical pulping, Bioproduct mill, New lines, Finland, Europe