Customer case:
Complete brownfield mill at CMPC Celulose Riograndense, Brazil
The new pulp line is an expansion to the existing Guaíba pulp mill in Rio Grande do Sul state, south of Brazil. The new line has a capacity of 1.3 million tonnes per year and can be upgraded to reach 1.5 million tonnes per year with minor investments. This is an addition to the existing capacity of the mill of 500,000 tons per year.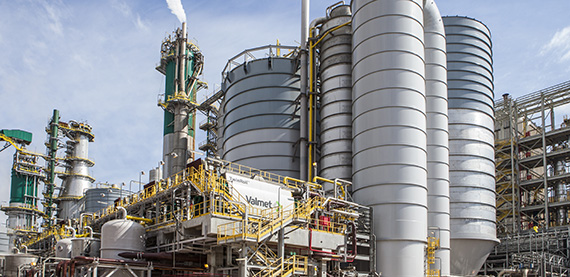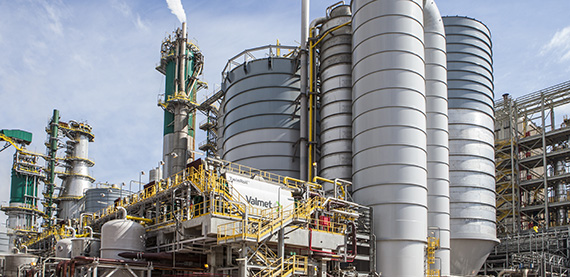 We consider the project to be victorious, and it has brought environmental gains to our company.

Summary
Location
Guaíba mill, Rio Grande do Sul state in southern Brazil
Customer challenge
Meet the growing demand of pulp in the market with a cost efficient and sustainable new production line
Solution

Valmet's delivery covered the main process islands of the 1.3 million ton pulp line, from the cooking plant to the bales that are shipped to final users, including:

complete fiberline

pulp drying and baling

evaporation

recovery boiler

white liquor plant: causticizing and lime kiln

state-of-the-art non-condensable gas treatment system

integrated automation solution

operator training simulator for all mill process areas

Results

Valmet's solutions for the Guaíba project were based on the best technologies available.

The capacity of the evaporation plant is the largest in operation in the world.

The stationary cooler of the lime kiln brings significant savings in the fuel oil.

The recovery boiler is designed for high power generation.

The fiberline features industry-leading operational costs, combining high pulping yield, low chemical consumption and reduced water consumption with low effluent levels.

The pulp dryer utilizes the most reliable technology to provide low steam consumption, and is equipped with high-speed baling lines.

Benefits

Mill sustainability and efficiency using the best technologies

Production start-up as planned

More than 8,000 people trained with training simulator

Excellent HSE record during the project

PMI Project of the Year Awards finalist in 2016

Odorless mill

Keywords

Pulping and fiber, South America, New lines