Customer case:
Gold East Paper Jiangsu improved shipping roll quality with the 100th iRoll Portable
With annual capacity of almost 2 million tonnes, Gold East Paper Mill is one of the leading manufacturers of coated woodfree papers. Valmet teamed up with the mill and performed parent roll hardness profile optimization with iRoll Portable technology.
iRoll runnability analysis is suitable for all paper and board grades, and provides several benefits for paper makers and maintenance experts."

Summary
| | |
| --- | --- |
| Location | Jiangsu, China |
| Customer challenge | The aim was to find tools for the best possible runnability and roll quality in winding. |
| Solution | iRoll runnability analysis was initiated in order to study parent roll hardness profiles and to find out reasons for possible profile variation and skewness. |
| Results | New practices for performing off-line multinip calender profiling were learned to remove the hard edges on parent roll bottoms and soft edges on top. Optimized profiling contributes to even better customer roll quality and winder runnability. |
| Keywords | Board and paper, China, Improvements |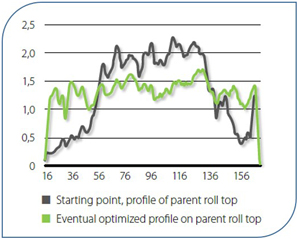 iRoll Portable is a solution for quick and cost-efficient nip or process analysis and tuning with a temporarily installed iRoll system. iRoll Portable runnability analysis for reels, winders, web tension profiles and fabric tension profiles is performed online during production as the target is paper quality, runnability and parent roll hardness profile improvement.