Customer case:
Valmet IQ Web Monitoring System guides further board machine improvement at AB Grigeo Klaipėda in Lithuania
In order improve runnability on its PM3 board machine, AB Grigeo Klaipėda in Lithuania recently installed a Valmet IQ Web Monitoring System (WMS) to discover more about the origins and causes of web breaks. As part of continued investment on the machine to improve product quality and productivity the forming section was rebuilt in 2016 together with the installation of a silent drive system in the dryer section. Upgrades to the Valmet distributed control and quality control systems were also done at this time.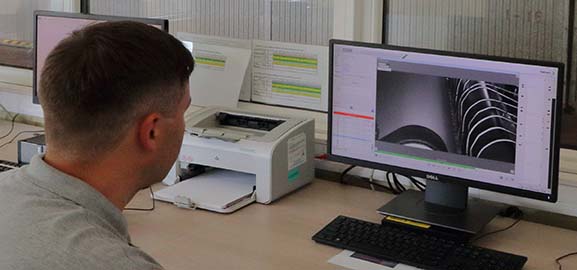 We have probably found the reasons behind 75% of the breaks and the camera system has enabled the next step of our investment plans to reduce the problem. When breaks occur at the same area and in the same location, we can actually see what caused the problem. This may mean we stop the machine to clean the wire or dryer fabrics and thus avoid another break.
Summary
| | |
| --- | --- |
| Location | Ab Griegeo Klaipėda in Lithuania |
| Customer challenge | Customer needed to improve runnability and to discover more about the origins and causes of web breaks. |
| Solution | The Valmet IQ Web Monitoring System with a total of 14 cameras were installed from the press section to size press with flexibility added by two moveable cameras that can be setup to monitor other areas on the machine. |
| Results | Customer found the reasons behind 75% of the web breaks. |
| Keywords | Valmet IQ Web Monitoring System, Board and Paper, Upgrade, Lithuania |