On the worldwide lookout for top talents: Technology Group Körber hosts first virtual Career Week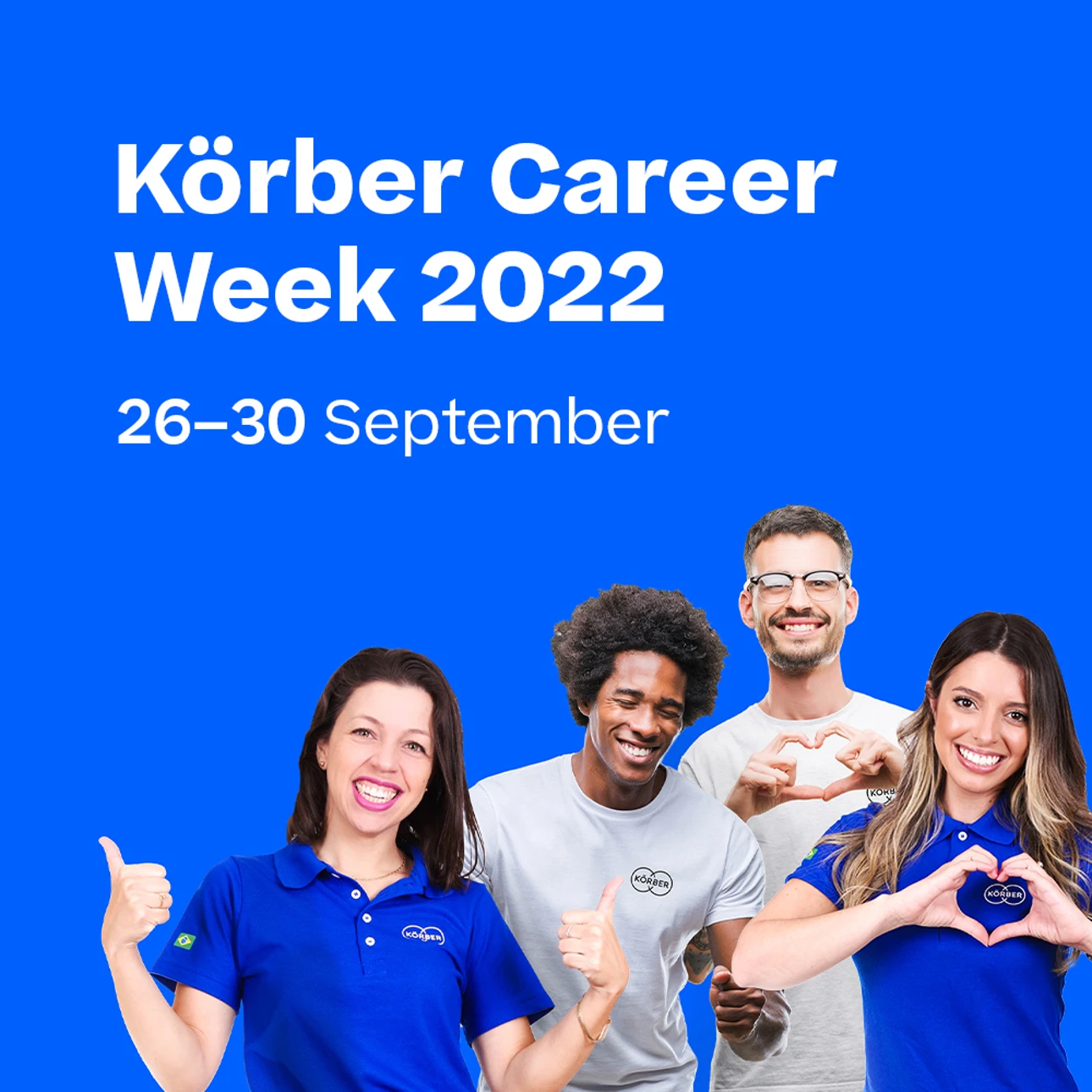 Körber hosts global virtual career event from 26-30 September 2022 The international technology group offers deep insights into the "home for entrepreneurs" and a wide range of career opportunities More than 25 speakers from business, science and the media speak about new work, leadership, personal branding and sustainability
More diversity, a broadened perspective and wide-ranging career opportunities: From 26-30 September, Körber will be hosting the first global virtual Career Week. The program includes inspiring lectures, training for newcomers and managers alike, expert panel discussions, and a range of jobs for which participants can apply immediately.
The international technology group with more than 100 locations worldwide gives innovative minds the opportunity to develop their potential and provides an in-depth look into their "home for entrepreneurs." From Joinville to Shanghai: Körber offers a wide range of entry and development options across its five Business Areas Digital, Pharma, Supply Chain, Technologies and Tissue. "Our claim 'market leadership through technology leadership' demands that we have the best talent on board," says Stephan Seifert, Chief Executive Officer (CEO) of the Körber Group. "A combination of startup culture and success in the industry make us the ideal employer."
It's all about innovation in recruiting
With its virtual Career Week, Körber wants to implement in recruiting what the Group stands for with customers and partners: innovation. Following the 24-hour Körber Career Day in November 2021, the technology group is once again taking new approaches to talent acquisition this year.
"Succeeding the outstanding success and an immediate increase of 40 percent in applications, we will be stepping it up a notch this year, providing deep insights behind the scenes and relying on unusual formats and prominent guests," explains Gabriele Fanta, Head Group HR at Körber.
In keeping with this idea, the Körber Career Week will not only include speakers from within the Group, but also feature external guests on the topics of new work, leadership and sustainability - from Gero Hesse, one of Germany's best-known HR bloggers and founder of the HR podcast "Saatkorn" to professor Katharina Hölzle from the Fraunhofer Institute for Industrial Engineering IAO, to Dr. Florian Heinemann, Co-founder of Project A Ventures and business angel, as well as Prof. Dr. Yasmin Weiß, author and professor at TH Nuremberg and Katharina Wolff, CEO of D-Level consulting and publisher of STRIVE magazine.
Interested parties can find further information about the Career Week and the opportunity to register free of charge at this link.