Cost efficiency is a term found on every pulp and paper mill's top priority list now that the whole industry sector is going through a structural change with raw material and energy costs rising and environmental legislation tightening. To help pulp and papermakers tackle these challenges, Valmet Flow Control business line (former Neles) continuously develops its valve products and services further.
"With our flow control solutions, customers are able to maximize production efficiency, availability and process performance as well as reduce safety risks throughout the entire life cycle of their mills," says Esko Ilmonen, Vice President, Flow Control, Pulp & Paper Sales and Marketing. "We offer professional customer service starting from valve selection and the first sales contact up to the mill run-time support, and assist in all valve-related issuesand even beyond that."
According to Ilmonen, Valmet wants to be a true trailblazer, a technology leader, in valves. In fact, many valve innovations for the pulp and paper industry have originated, such as the capping valve and the basis weight control valve. "Our challenge is to develop innovative products and improve existing ones to help our customers perform better and make more money. By understanding their drivers and challenges, we can be proactive in finding solutions in partnership with them."
Ultramodern valve production facilities around the world ensure the known high Valmet quality and value for money. An extensive global network of dedicated sales and service professionals help pulp and papermakers in their greenfield projects, rebuilds and modernizations as well as everyday operations.
Reliability lowers the total cost of ownership
During the past 60 years, Valmet Flow Control's (former Neles) valve solutions and related services have convinced global pulp and papermakers. This is shown by the fact that 75% of the world's pulp flows through Valmet valves.
This success is based on two factors intertwined with each other: experience and valve reliability. "We have extensive knowledge and experience of the pulp and paper processes and applications, and they have been built into our product offering," Ilmonen goes on. "The biggest innovation in the past few years has been the development of the market-leading valve controllers. They allow customers to better control and 'see' what is happening in the valve during operation."
Ilmonen also emphasizes the support given to customers after the startup of the mill. "With innovative valve controllers and professional global service teams, our customers are able to have online diagnostics of the valves, both in real time and as trends."
This allows the maintenance of each valve to be planned well ahead. Unplanned shutdowns due to valve failure can be avoided as well as maintenance of valves that do not need it yet. After all, nothing costs more than an unplanned shutdown in production. An important cost driver is also the maintenance frequency.
"The initial valve investment in a typical pulp or paper mill project represents only about 20-25% of the total cost of ownership throughout the valves' lifetime. Therefore, it is essential to have a look at the operating costs of the installed valves as well," Ilmonen continues.
One contact point for the whole process
Among the suppliers to the pulp and paper industry, Valmet has the widest process knowledge and product offering, starting from the wood yard all the way up to the end products. In fact, there is no other supplier in the world who is able to offer this with its own products and experts.
"By cooperating with Valmet, customers have only one source for complete mills or any part of them. One contact point for the whole process can bring significant savings in time and costs," Ilmonen concludes.
Pioneering products come from Valmet Flow Control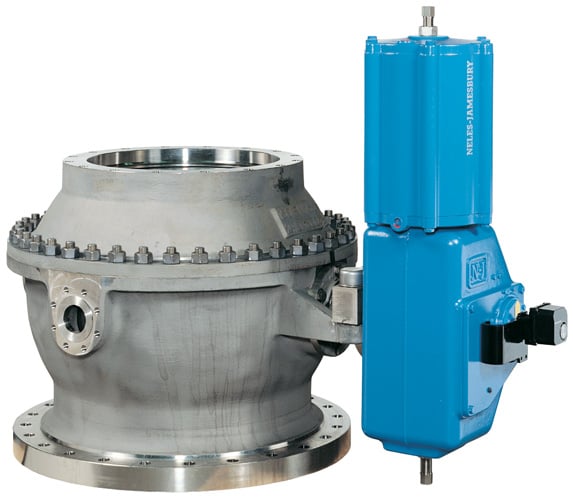 Our valve product offering for the pulp and paper industry covers all the typical valves for control and on-off use, including, ball butterfly and segment valves under the Neles™ and Jamesbury™ product families. Additionally, there is a wide range of accessories, intelligent devices and software products, all engineered to meet each pulp or paper mill's needs and challenges. The products feature innovative, yet fundamentally simple construction, operation and maintenance features to optimize process performance at the lowest cost.
Innovation is a key driver in product development. It's thus no wonder that most of the pulp and paper industry-specific valve innovations come from Valmet. They include the capping valve for batch cooking, high consistency valve for bleaching, NelesAce™ valve for basis weight control, ceramic ball valve for erosive applications, and intelligent valve controllers, to name just a few. To date, Valmethas delivered about 3,000 basis weight valves and more than 1,500 capping valves.
Since safety is an in-built feature, all valves meet even the newest safety (SIS/SIL) regulations.
Performance that you can rely on
Some recent valve installations
Pulp mills:
- Veracel, Brazil
- Stora Enso Langerbrugge, Belgium
- Arauco Valdivia, Chile
- Stora Enso Kvarnsveden, Sweden
- Huatai, China
- Rizhao, China
- Metsa Botnia, Uruguay
- Bahia Pulp, Brazil
Paper and board mills:
- Plattling Papier PM 1, Germany
- Portucell, Setubal PM 4, Portugal
- Mondi Swiecie BM 7, Poland
- UPM Changshu PM 1, China
The fact that 75% of the world's pulp flows through Neles's valves clearly shows how much the global pulp and paper industry relies on their performance. The highest possible reliability is a good reason to place repeat orders – again and again.
However, sometimes quite a lot of time may lapse between repeat orders. One example comes from the Power Flute Savon Sellu Mill in Kuopio, Finland. When the mill was built in 1968, hundreds of Neles valves were installed in the processes. Although their environment has changed dramatically – they are now controlled digitally – some of the original valves still exist and work well. The installed base is currently being renewed slowly valve by valve. Only recently, the main steam valve in the board machine was changed to a new one after 36 years of successful operation.
"I appreciate Neles™ valves for their high quality and reliability. I sometimes refer to them as 'install and forget' valves. Neles™valves are not the cheapest, but the savings are seen over time, as they do not need much maintenance," says Rauno Nöjd, who used to work as the foreman in the instrument department.
Valves for almost all new mill projects
Where new pulp production capacity is being built, Neles is almost always involved in these projects. Have a look at some of our latest deliveries to pulp and paper mills around the world.

Text by Marjaana Lehtinen
Published in 2/2013 Results automation magazine
Text originally published in 2013, and slightly updated in April 2022, due to the company name change to Valmet.