Originally published in Results customer magazine 2/2013
Valmet Black Belt is an improved version of the earlier BlackBelt shoe press belt that has been very successful at paper mills around the world ever since its introduction in 2008. The benefits of Valmet Black Belt include longer life, less wear, even doctoring and better profiles. These factors all reduce the overall belt cost, which is a very important issue for mills in these economically tight times.
Machine-direction (MD) dimensional stability has been taken one step further in Black Belt in order to better address the problems related to stretching and wear on demanding machines.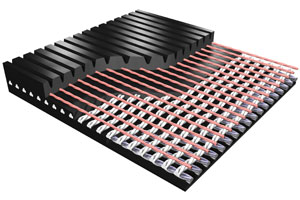 Uneven plastic MD stretching causes doctoring problems due to diameter variation, which prevents the doctor blade from moving across the belt surface evenly, resulting in poor profiles. The speed difference in the nip also causes mechanical belt wear. Elastic MD stretching also causes wear.
"The Black Belt features higher MD dimensional stability, which reduces the risk of permanent changes in the belt. It also has a very positive impact on wear resistance," says Ville Lahdensuo, Product Technology Manager, Belts, Paper Machine Clothing. "Since the modulus of the reinforcement has been doubled, stretching of Valmet Black Belt is only half of that of a the earlier BlackBelt. This means that the belt remains within the operating window more efficiently, and its dimensions do not change permanently."
Also applicable to calendering
Another major improvement in the new belt is related to its ability to withstand heat. Its polyurethane material endures high temperatures of up to 130°C in continuous use without degradation. The synthetic yarns that reinforce the belt structure do not soften until the temperature reaches 120°C. Belts cannot usually be used in temperatures over 80°C.
"Since the Valmet Black Belt withstands high temperatures, it can also be used in calendering and other high-temperature applications," Lahdensuo points out.
Positive feedback from customers
Just like its older brother, Valmet Black Belt is available in smooth, grooved, semi-grooved, discontinuously grooved and high-density grooved designs, to fulfill the demands of each individual shoe press.
The new belt has been designed for all kinds of paper and board machines, but especially for the most demanding ones, such as wide printing paper and container board machines. According to Lahdensuo, the belt is also suitable for tissue machines. Tissue machines do not have high press loads but they do have other issues with belts. "We have received only positive feedback from the mills where these new belts are being used and each customer has been able to improve belt performance."
New production line inaugurated
The demand for all products in the Black Belt family has been growing steadily over the past years. To increase shoe press belt production capacity, Valmet recently built a new belt casting line in Tampere, Finland, which was inaugurated during the Clothing Days seminar in February 2013.
Excellent experiences at Holmen Paper Madrid
Holmen Paper Madrid PM 62 is one of Valmet's (until Dec. 31, 2013 Metso Paper) long-standing belt customers. In summer 2012, the mill installed a new Black Belt shoe press belt on the first press of this newsprint machine. Consequently, PM 62 ran a new world newsprint speed record of 2,030 m/min. The machine was also using Valmet's press felts at the time.
And what's more, the Black Belt ran for 98.2 million nip cycles, which makes it the longest ever running shoe press belt on PM 62. Congratulations to everyone at Holmen Paper Madrid!
Non-marking Black Belt HD family grows
In conjunction with the development work on the new Black Belt shoe press belt, Valmet has expanded its range of high-density (HD) grooved surfaces that are available for the standard Black Belt and the new Black Belt. They all prevent marking efficiently and improve water removal from the web.
There is now a high-density option for machines that require a larger void volume, such as marking-prone board machines. And some very good results have also been gained with HD on tissue machines.
Meet the members of the Black Belt HD family:
Black Belt HD 380 · 0.80 mm grooves, 1.3 mm lands, void volume 380 g/m2 · For fine paper and tissue machines, also other machines making light and sensitive (=marking-prone) paper
NEW: Black Belt HD 420 · 0.90 mm grooves, 1.3 mm lands, void volume 420g/m2 · For lightweight mechanical paper grades in the 2nd press of OptiPress or Tandem NipcoFlex
NEW: Black Belt HD 460 · 1.0 mm grooves, 1.3 mm lands, void volume 460g/m2 · For newsprint and packaging board machines in the 1st and 2nd press of OptiPress or Tandem NipcoFlex
Originally published in Results customer magazine 2/2013