The only screen basket on the market that is tailored for machine screening application
The first screen basket for machine screening
Laminar design wedge wires are providing higher capacity with lower energy consumption in approach flow system
Valmet Screen Basket VF is the new generation of the Nimax LD, the screen basket designed specifically for machine screening applications. It ensures targeted pulp quality and high screening capacity in all operating consistencies with excellent screening runnability.
One of the principal advantages of Valmet Screen Basket VF comes from the optimized shape of the wedge wire. The laminar flow pattern minimizes the tendency of paper defects caused by stringing.
Energy savings provided for Valmet Screen Basket VF users
The Laminar design screen basket from Valmet is an energy saving product. Thanks to the optimized and streamlined wedge wire shape the pressure losses in approach flow screening are lower compared to screen baskets with conventional wedge wire shapes.
The lower pressure loss enables you to run higher capacity through your machine screen. It can also provide improvement for the efficiency of the production line. The non-turbulent flow through the accept channel will result less defects in the web of board, paper and tissue machines.
Due to the unique wedge wire design feature in the basket, it has higher capacity without increasing the energy use or the same capacity can be run with less energy. Already over a thousand of these baskets are in operation word wide.
500 years ago Leonardo da Vinci was the first to study the code of turbulent motion of water
Advantages of using Screen Basket VF
The advantages of using Screen Basket VF in approach flow screen are many. Higher flow capacity of laminar design screen basket can enable reducing the slot width resulting increased screening efficiency. Higher debris removal in approach screen will provide higher level of protection for the board, paper and tissue machines.
Higher cleanliness of end-product will also be reached. With laminar design wedge wires the reduced amount of usable fiber losses are recorded to have provided savings. High capacity in accept is resulting in lower thickening of rejected stock. Other remarkable feature of the Screen Basket VF is that laminar design wedge wire can reduce the amount of pulsation in head box. Smoother operation of the forming section is the key feature in targeting excellent end-product quality.
Non-turbulent and streamlined flow through accept channel between wires.
Our​​ com​petence and close co-operation with customers create trust
We would like to see more of laminar design baskets in operation to be able to reduce energy cost of our customers."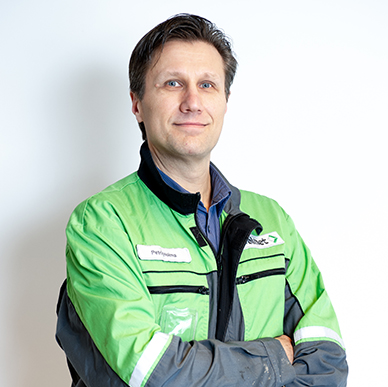 One of the co-driver's tasks is on-​​site support. It means that the global and/or local co-driver has a frequent contact with the customer and supports in process related questions around the screen basket. In many cases an agreement is made beforehand how the support is given during the yea​r.