Jun 30, 2019
Valmet and Kawanoe Zoki are once again collaborating in delivering an Advantage tissue production line to Crecia-Kasuga Co., Ltd in Japan. The new tissue line will be installed at the new Fuji Mill premises. Start-up is planned for 2020.
This is the second time Valmet and Kawanoe Zoki co-operate in a machine project delivery to the joint venture Crecia-Kasuga Co., Ltd to. The first tissue machine has been in continuous successful operation, at the same mill site since May 2018.
Continuation of a successful collaboration
"We at Valmet appreciate the opportunity to further develop the excellent cooperation between the three companies. It is very encouraging that the introduction of the Advantage ViscoNip press and other leading tissue technologies installed in the first tissue machine at the Fuji Mill has been so successful. It is a privilege to continue our cooperation." says Ingmar Andersson, VP Tissue Mills business unit, Valmet.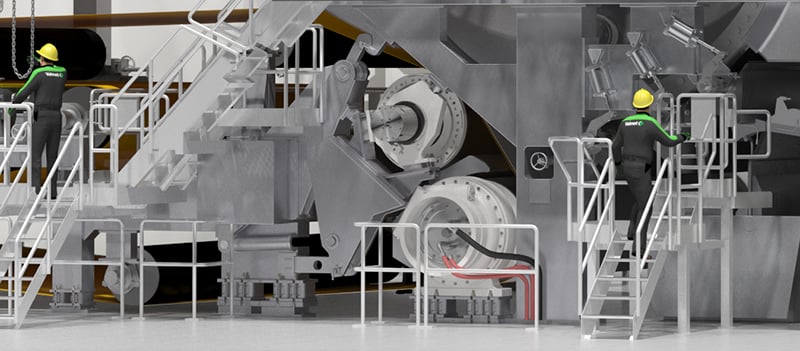 The introduction of the Advantage ViscoNip press has been successful in Japan
Exceeding expectations
"We are very impressed about the performance of our first Advantage DCT tissue machine as well as the smooth and efficient cooperation with Valmet and Kawanoe Zoki, and we are pleased to invest in a second tissue machine from the same suppliers. The previously installed machine from Valmet and Kawanoe Zoki is exceeding our expectations and has been operating successfully since the start-up. We look forward to work together with Valmet and Kawanoe Zoki also in this new project," says Mr. Hirofumi Narita, President, Crecia-Kasuga.
High pressing performance
"It is a great pleasure to continue our cooperation and to contribute to establish the latest tissue machine technology in the Japanese market. The Advantage DCT tissue machine equipped with an Advantage ViscoNip press provides a unique value-adding performance," Mr. Takahiro Shinohara, Executive Managing Director, Kawanoe Zoki, adds.
Latest technology
Valmet's delivery includes an Advantage DCT 135HS machine with Valmet's key technologies OptiFlo II TIS Headbox, Advantage ViscoNip press, Advantage AirCap hood and a Advantage Yankee S. Manufacturing of other equipment, site assembly and installation services will be performed by Kawanoe Zoki. The new line has an annual production capacity of 40,000 tonnes.
For more information please contact:
Tomas Karlsson, Sales Director, Asia Pacific, Tissue Mills business unit, Valmet
tel. +46 766 397989, email: tomas.a.karlsson[at]valmet.com
Setsuo Suzuki, Director, Japan region, Valmet tel. +81 86 212 3277, email: setsuo[at]suzuki valmet.com
Mr. Shinji Goda, Director and Manager of designing section, Kawanoe Zoki Co., Ltd., tel: +81 896-58-0111, email: shi.goda[at]kawanoe.co.jp