SymBelt services for board and paper machines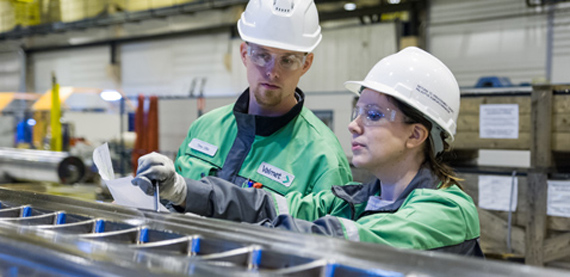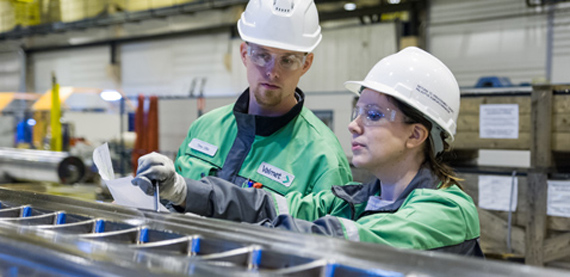 Reduce costs with the on-site SymBelt service
Valmet has had great success with on-site shoe press services for years now, working on the maintenance of hundreds of SymBelt and mating roll maintenances. A tailored SymBelt service package from Valmet's on-site service team of experts will reduce your costs and minimize the time you spend on maintenance.
Regular maintenance for maximum performance
The SymBelt shoe press has proven itself as a reliable solution in efficient dewatering and increasing production line efficiency in the press section. Valmet's SymBelt shoe provides significantly improved paper quality than a conventional press, as well as adding dewatering capacity in the press section with fewer press nips. The resulting high dryness facilitates higher machine speeds, thanks to better runnability.
Timely and properly planned maintenance is essential to get the most out of your SymBelt roll and prevent damage. Regular maintenance intervals every four or five years extend the lifetime of the belt, ensure undisturbed runnability, and result in better dryness. This all leads to energy and cost savings for you.

Why choose Valmet's on-site shoe press service?
Rapid response time
24/7 help in emergencies
Full support and extensive know-how
SymBelt service on-site in as little as 2 days
Skilled workers and on-site roll supervisors at your service
Continuous product development

Save money with on-site maintenance
Since rolls such as SymBelt have no spare rolls, on-site service is the most cost-effective solution for avoiding high freight costs and strained shutdowns. Valmet's SymBelt on-site roll service reliably cuts maintenance times and optimizes the actual running time of the paper machine, saving you both time and money.
Valmet always tailors a customized service plan to each customer's particular needs. During shutdown, maintenance has to be well-planned and all work completed. After the roll is dismantled, we aim to carry out the on-site maintenance work rapidly, with the roll ready to be reinstalled in as little as
two days.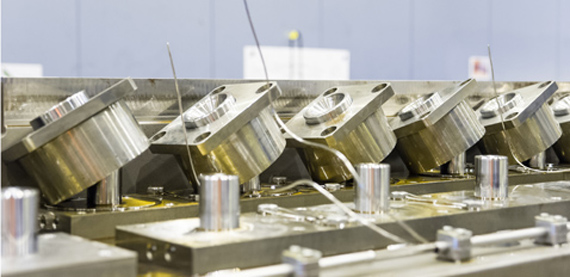 Rebuild of the SymBelt shoe press roll
In addition to the basic on-site maintenance services, Valmet offers a larger overhaul designed specifically for the SymBelt shoe press roll when the roll reaches the age of 15-20 years. This rebuild will be performed during a shutdown and it includes more detailed actions such as crack inspection to shaft and bearing houses and piping works in addition to the basic roll overhaul. Also, different audits before the shutdown and startup support by a Valmet expert after the completed overhaul are included in the rebuild to ensure maximum benefit. With the rebuild, an overview of the current condition of the SymBelt shoe press roll is formed. Knowing the condition status ensures a safe runnability of the roll and effective planning of the future actions.
Two rolls in one service
When SymBelt maintenance is adopted, a combined overhaul including the mating roll (SymZL) is recommended. Servicing both rolls at the same service break avoids unnecessary shutdowns and cuts the overall downtime of the paper machine. A service package for both rolls is the smart choice for avoiding hefty freight costs and improving sustainable paper production.
Shoe press roll upgrades for improved performance
A SymBelt upgrade is a quick and easy way to cost-effectively improve performance in the press section. Thanks to our long-term customer agreements and tailored upgrade packages, we have achieved significant success in extending belt life, increasing dry content and improving the wad burn resistance of the shoe press.

Access to the latest shoe press technology
Improved runnability and enhanced damage control are the main benefits SymBelt rolls gain from upgrades. Taking into account the customer's targets and previous maintenance needs, Valmet offers a variety of modernizations and upgrades for shoe press rolls. We ensure that our customers have access to the latest roll technology, even in modernizing older shoe press rolls.
Longer lifetime with automation and hydraulics upgrades
An important part of the shoe press maintenance is the condition check of the automation and hydraulic elements. Valmet provides several different automation, hydraulics and software upgrades for your needs. Keeping these elements up-to-date result in longer belt lifetime and better mechanical durability. Improvements in measurement handling and interlocks provide better runnability and improvements in controls during shutdown ensure easier maintenance.