Aug 12, 2021
Innovative thinking has expanded the capabilities of Valmet's wet flue gas desulfurization technology (FGD). Instead of just removing sulfur (SOx), the system can capture nitrogen oxide (NOx) as well – and do both sustainably and economically.
The ever-increasing awareness of environmental issues calls for better emissions control and minimized chemical and water consumption. As environmental regulations around the world get stricter, energy producers and pulp and paper makers struggle to meet them, looking for new and better ways to remove and control their emissions.
The benefits of one system
Since its first wet flue gas cleaning system delivery back in 1972, Valmet has supplied and installed numerous wet and dry air emissions control systems for the demanding conditions within power utilities and pulp and paper mills worldwide.
Valmet's FGD can now be offered in combination with NOx removal, making SOx and NOx removal more economical.
"Traditionally, we've solved our customers' SOx and NOx control issues by supplying two separate systems: a flue gas desulfurization (FGD) system and a selective catalytic NOx reduction (SCR) system. We're now combining them in a single system," says Tony Gustavsson, Product Sales Manager, FGD, Valmet. "There are many customers for whom the traditional solution is technically impossible due to a lack of space, demanding fuels or another reason. For example, with boilers that run on coal with a high ash content and recovery boilers, it's impossible to control NOx with SCR. Our new solution also enables these plants to comply with ever-stricter emissions regulations."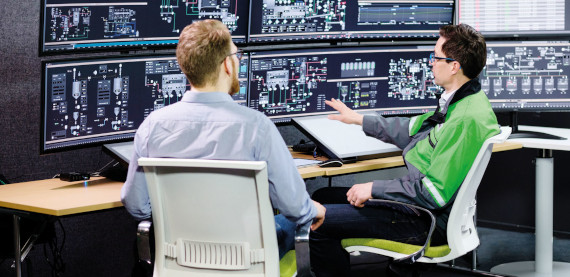 The innovative approach clearly plugs a gap in the market. "One of Valmet's strengths is the ability to combine existing in-house technologies into something unique and boost customer performance by adding something new to the solution," Gustavsson adds.
One system makes removal more economical
Valmet's FGD is known for its efficiency and reliability in SOx removal. This system can now be offered in combination with NOx removal, making SOx and NOx removal more economical.
Limestone or lime powder is used to absorb sulfur. The sulfur is converted into gypsum slurry in an open spray tower absorber. NOx is reduced by adding oxidant to the flue gas stream. After dewatering, the slurry is converted into gypsum – an easily handled end product that is suitable as a raw material for the wallboard and cement industry, for example.
Depending on fuel composition and the available water quality, the FGD system can be designed to produce no wastewater at all during operation.
Text Marjaana Lehtinen