The energy turnaround in Japan has been massive: all 54 nuclear power plants were closed down after the large tsunami hit the Fukushima nuclear power plant in 2011. By August 2017, only five of them have passed the rigorous safety inspection and are back in operation.
In the meantime, nuclear energy production has been compensated by oil- and LNG-fired capacity, and many thermal and biomass power plant projects are under construction. The Japanese people have become increasingly more environmentally conscious. They prefer sustainably produced energy that does not create any CO2 emissions. This tips the scales in favor of bioenergy.
To ensure energy sufficiency, the Japanese government drew up a feed-in-tariff (FIT) scheme for renewable electricity including biomass. This system allows the co-combustion of fossil fuel, but a higher FIT price is paid for the biomass share only. It has been one of the biggest driving forces behind the bioenergy boom and the building of biomass power plants. Now, four of these will be equipped with Valmet's multifuel boilers.
Partners complement each other
In 2014, JFE Engineering (JFE), an experienced Japanese engineering, procurement and construction company with over 100 power plant references, contacted Valmet and expressed its interest in cooperation.
"As our own technology is designed for power plants under 50 MWe, we wanted to collaborate with an experienced technology provider who can deliver higher-capacity boilers and has extensive know-how of reheater systems. We were impressed by Valmet's unique finishing superheater and reheater technology and boiler's fuel flexibility as well," recalls Keiichi Nagaya, Director, Head of VJ Collaboration, Energy Sector, JFE.
In 2015, the two companies signed a long-term cooperation agreement to enable joint growth in the Japanese energy market. "It's a good combination of Valmet's high-efficiency technology solutions and JFE's strong market presence and capability to supply EPC power plants. We complement each other well," he adds. "The Japanese power producers will now be able to achieve very high thermal efficiency while supporting renewable power generation at the same time."
A strong brand in the pulp and paper industry
In Japan, Valmet is an established brand and has a reputation as a high-tech supplier to the local pulp and paper industry with a long track record of machine and automation system deliveries. It's a newcomer, though, in the energy sector. "In fact, there are no foreign equipment suppliers, since the Japanese energy sector market has been almost fully closed. Customers are very conservative. They only tend to choose suppliers and contractors who have references and know the market," points out Ari Kokko, Director, Technology and R&D, Energy Business Unit, Valmet.
Ari Kokko was Valmet's main technical negotiator during the discussions and spent over 100 days in Tokyo to create trust and mutual understanding between the partners. He gives special acknowledgment to JFE's Koji Yamamoto, Senior Fellow (Boiler Technology), for his contribution to these discussions.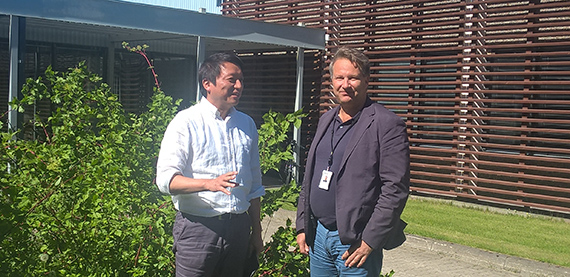 Keiichi Nagaya from JFEE and Ari Kokko from Valmet discussing technical concepts of future cases.
Four orders in a short time
Joint project development between Valmet and JFE led to the first CFB power plant contract in Japan in the fall of 2016. The equipment will be installed for MPM Oji Eco Energy Corporation at the Mitsubishi Paper Mills Limited plant in the city of Hachinohe, Aomori Prefecture. The delivery includes a biomass-fired 75 MWe Valmet CFB Boiler (CYMIC at the time) and a flue gas cleaning system. The annual output of the power plant will be approximately 5.3 million kWh, and the main fuels to be used include wood chips, palm kernel shell and coal.
As the FIT system incentivizes power producers to invest in high efficiency, the boiler is equipped with a reheater. The steam temperature is reasonably high for this size of boiler, with the main and reheated steam temperature being 557 and 541°C respectively.
"Valmet can provide highly efficient boilers that feature high fuel flexibility and run also on demanding solid fuels, such as agro-biomass and waste. This is a clear benefit for energy production in Japan as the country has so few natural energy resources," Ari Kokko says.
The order was soon followed by three others, all of them featuring a similar technical concept as the first one. Two of them feature a production capacity of 75 MWe and one 112 MWe.
They will be delivered to Kushiro Thermal Power Plant Inc. located in the city of Kushiro, Hokkaido; Buzen New Energy LLC. located in the city of Buzen in Fukuoka Prefecture; and Ofunato Power at the Taiheiyo Cement Ofunato Plant located in the city of Ofunato in Iwate Prefecture.
One common feature for all four boilers is their ability to run on agro-based biomass combined with high steam temperature. This means that they can achieve a stable power supply at extremely high thermal efficiency while significantly reducing CO2 emissions.
Matching engineering practices
The partners now have four projects underway at the same time and almost in the same phase. JFE and Valmet teams cooperate closely and pay visits to each other frequently to ensure the success of the deliveries.
"No modern communication tools can fully replace face-to-face meetings," says Peter Anson, Director, Projects and Sites from Valmet's Pulp and Energy business. Matching and synchronizing two companies' engineering practices together can be a challenge, but it is manageable when both parties are truly committed to cooperating.
"The working cultures in Finland and Japan are quite similar. In both countries, people work hard and are punctual," Keiichi Nagaya adds.
All plants ready in 2019
The civil works at the site of the first joint project in Hachinohe have started. According to Peter Anson, engineering and procurement of the boiler are proceeding as scheduled, and manufacturing of the pressure parts is about to begin.
"The first equipment parts will arrive to the site in November. Valmet will provide supervision during boiler plant construction and services for plant commissioning and startup," he says. Installation work at the Hachinohe plant is scheduled to start in 2017 and commercial operation is set for July 2019.
The multifuel boiler deliveries will keep Valmet and JFE busy. By December 2019, all four plants should be in operation and supply greener energy to the Japanese industry and people.
The bioenergy market is continuing to boom. Existing old oil-fired and coal-fired utility power boilers with a capacity less than 350 MWe can be replaced with new multifuel boilers using Valmet's technology to generate high-parameter steam even with biomass and waste.