Custom tube alignment bar information
Over time, expansion, contraction, and vibration associated with soot blowing and general boiler operation can cause misalignment and bowing of tubes in various areas of the convection pass in your boiler. This can leave the tubes susceptible to erosion or corrosion damage, as well as create heat transfer imbalances that are detrimental to the long-term serviceability of these tubes. Improper tube alignment can also contribute to boiler fouling and draft loss, resulting in increased fan power consumption and possibly even boiler down time.
Tube alignment bars have proven to be a cost effective means of holding misalignment and bowed tubes in their proper position, thus avoiding problems that can adversely affect boiler operation or shorten the service life of the tubing.
Valmet has manufactured tube alignment or "handcuff" assemblies for all types of boilers and boiler environments. Because we are the leading supplier of tube shields for the power industry, our extensive high temperature material inventory and tube radius die sets facilitate production of virtually any handcuff assembly arrangement. This can be done in a timeframe that meets your demanding outage schedules.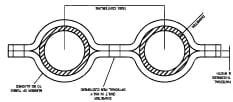 Please fill in the contact form below so that we can provide you with a quote. If you don't have all the information, just give us a call and we'll help.
(Fields with an * are mandatory fields)