XXL size recovery boilers have operated since 2004, when the first XXL size recovery boiler started up in China. From the process point of view, those boilers have run extremely well, either reaching or exceeding all process requirements. The XXL size recovery boilers are typically designed for high dry solids content, high energy efficiency, low air emissions, and environmentally friendly process solutions. Those boilers burn Non-Condensable Gases (NCG) and other side streams coming from the other parts of the mill, and therefore the XXL size recovery boilers are very important in targeting for odorless pulp mills.
However, some units have encountered mechanical problems after start-up due to the large size of certain components in the pressure part. However, all those challenges have been solved and these experiences have helped to develop boilers further toward even safer operation and higher availability.
In the future, larger and larger recovery boilers will be built; therefore development work is still needed to reach even lower emissions and better availability. New recovery boilers are very typically planned to operate for at least 18 months. This creates challenges for the engineering of many process systems and components in order to meet the requirements for safety and process optimization. However, long experience with XXL size recovery boilers helps meet these new demands for longer operation periods.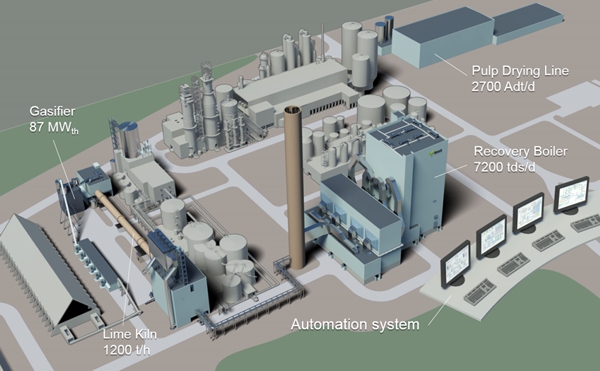 Valmet has delivered many boilers with the capacity of 4000-5000 tds/d. Experiences from those references have been extremely important when developing larger boilers, such as the XXL units. The latest achievement is the delivery of a new XXL size high-power recovery boiler to Äänekoski, Finland.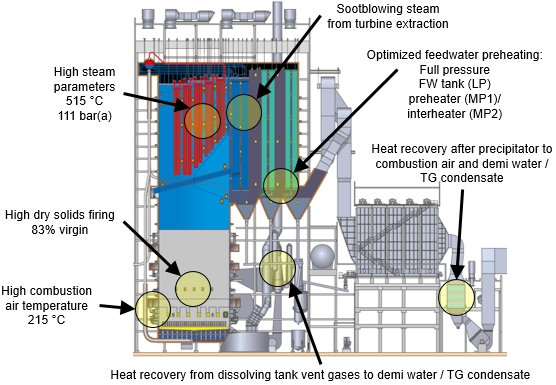 The XXL size recovery boilers have operated quite well and their availability has been good. These boilers are able to burn many kinds of fuels without increasing their emissions. The XXL size boilers have large furnaces, modern air systems, and high black liquor dry solids, and therefore the sulphur emissions have been well under control. From the process point of view, no setbacks have been experienced. However, K and Cl must be controlled very accurately in order to maximize boiler cleanability and to minimize the risk of superheater corrosion.
Even though the first recovery boilers were designed and built over 100 years ago, there is still a lot to be developed and improved. Recently, development work has been carried out around topics such as decreasing NOx emissions and Advanced Process Control (APC) systems.
Learn more about XXL size recovery boilers
A Valmet white paper, available HERE, reviews the current status and future prospects of very large recovery boilers, starting with the first "XXL size" boiler in China in 2004. Particular attention is paid to K and Cl fouling problems, multi-fuel capabilities, construction material selection, emissions and future trends.
Download and read the white paper and give your Valmet representative a call to discuss improving energy efficiency, decreasing emissions and odorless pulp mill possibilities.