Nov 27, 2017
Oil and natural gas pipelines crisscross North America; in the US alone, approximately 150 000 km of gathering and trunklines span the mainland. Along these extensive pipelines, thousands of control valves optimise throughput. The role of valves in pipeline performance cannot be underestimated. But, only reliable, well-designed and specifically selected valves can perform their roles successfully.
The role of valves in pipeline performance cannot be underestimated
Natural gas or crude oil, both kinds of pipeline transfers set unique challenges for valves, which often call for innovative solutions. Valves have to operate reliably and handle any impurities uninterruptedly, every day of the year, every hour of the day. Noise, vibration, cavitation and clogging of valves are typical issues requiring extra consideration. Any of these can potentially result in safety risks and cost overruns.
With over 60 years of experience engineering valves to maximise uptime, we understand the needs of our customers. We offer a comprehensive product line along with global service and support to solve any possible customer problem.
At a midwest petroleum pipeline terminal, pressure letdown valves and an antiquated strainer system had been causing serious trouble. Every few months, it became necessary to shut down the line for cleaning and maintenance, sometimes for 24 hrs. Each time this happened, the repairs and lost productivity cost the operator up to US$200 000/hr.
When our professionals visited, they discovered that two competitive globe valves were being used to drop pressure in the pipeline. The extreme pressure difference across the valves generated excessive noise, vibration and cavitation, all of which resulted in damage to the piping, accessories and valves. Also, the single strainer used for both valves easily became clogged.
To our experts, the solution was clear: replace both valves and strainer with a single Neles rotary ball valve with patented Q-Trim™ technology.
More than six years after the new letdown valve was installed, results remain consistent. At a follow-up visit, noise and vibration were barely noticeable. Valve performance has been stable with no degradation due to cavitation. After installation, the line has not been shut down a single time for valve repair or maintenance.
This company has since made the rotary valve with Q-Trim its standard for all pressure letdown applications.
Based on results like these, thousands of rotary valves equipped with Q-Trim technology have been installed for similar applications all over the world.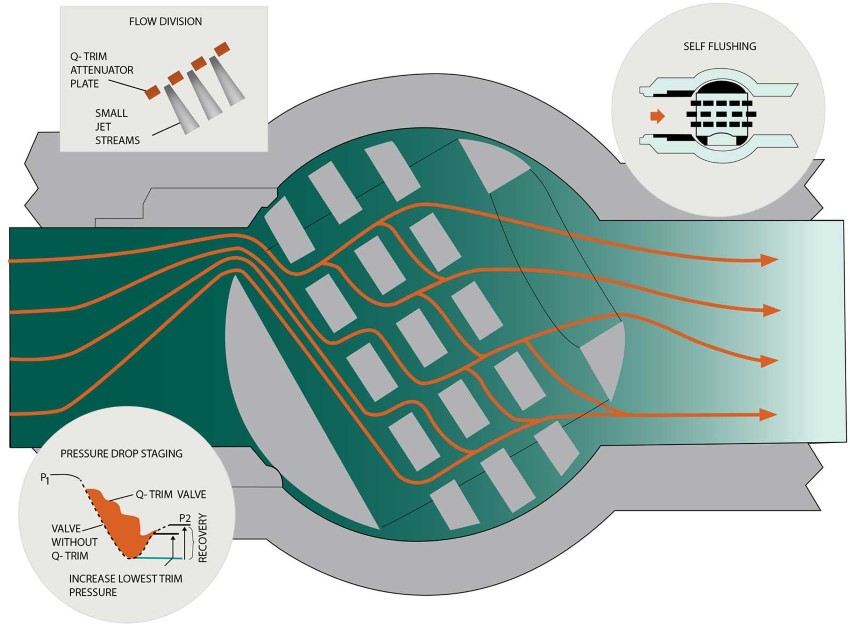 For high viscosity fluids containing impurities, valves with the Q-Trim design excel at eliminating noise, vibration and cavitation, resulting in lower total cost of valve ownership. Compared to standard trim valves, Q-Trim valves generally reduce noise by up to 20 dBA and vibration levels by more than 90%.
In addition, Q-Trim has a self-cleaning feature that helps avoid typical clogging issues. When fully open, Q-Trim causes 70% less differential pressure across the valve, which adds up to considerable energy savings. Plus, it is designed with smaller dimensions and weight, leading to easier piping arrangements and ease of installation.
Efficient flow control is not limited to valves. Accurately sizing a valve for a specific application should not be overlooked. That is why we developed the Nelprof™ sizing software, so users can correctly select control valves according to the application in question.
A special flow ring construction, designed to prevent the valve from completely shutting off, is another innovative feature offered by the company. This special construction prevents the dead heading of pumps and reduces oil hammer in the pipelines. Neles' ring construction helps especially in pressure letdown applications, where the actuator is often set to prevent the valve from fully closing.
Unique ring construction, Q-Trim technology and Nelprof sizing are only three solutions from industry-leading equipment and systems. The company's worldwide experience and understanding of field conditions also ensure superior results for pipeline customers around the globe.
Text by Steven Hocurscak. For additional information, please contact joonas.korhonen@valmet.com.
Published with permission of World Pipelines magazine, text published in the World Pipelines' valve review, November 2017.
The text has been updated in April 2022, due to the company name change to Valmet.