Valmet to supply boiler diagnostics system to Shandong Sun Paper Industry Joint Stock Co., Ltd. in China
Valmet Oyj's trade press release on August 21, 2019 at 11:00 a.m. EET

Valmet will supply boiler diagnostics system to Shandong Sun Paper Industry Joint Stock Co., Ltd. in China. The system will be installed in a new recovery boiler of Sun Paper, and it will optimize the recovery boiler availability and operation.
The order is included in Valmet's orders received of the third quarter 2019. The system will be delivered during the last quarter of 2019. The value of the order will not be disclosed.
"Valmet is an important partner for Shandong Sun Paper. We trust their people, technology and solutions. We believe their combustion diagnostics and monitoring system will help to optimize our recovery boiler operation," says Fei Da, project manager of Shandong Sun Paper.
"We are very glad that we can now provide a wider range of offering to our pulp and paper customers. This high-tech combustion diagnostics meets well our customers' needs, helps them to improve efficiency and safety, and provides possibilities to extend to advanced closed loop control to decrease the emissions of recovery boiler," says Chenglin Si, Area Sales Manager, China, Automation, Valmet.
Information about Valmet's delivery
Valmet's delivery consists of a Valmet Furnace IR Camera System. Valmet Furnace IR boiler cameras provide superior image quality and depth of view, enabling comprehensive observation and analysis at full load. This real-time ability to identify problems and apply solutions can result in higher boiler availability, reduced risk of catastrophic failure, improved heat transfer efficiency, and lower maintenance costs.
Information about the customer Shandong Sun Paper
Shandong Sun Paper Industry Joint Stock Co., Ltd. is one of the subsidiaries of Shandong Sun Holdings Group. Founded in 1982, Shandong Sun Holdings Group is a leading cross-national papermaking group integrating timberland, pulping and paper making. Headquartered in Yanzhou District, Jining City of Shandong Province, it is a leader in Chinese papermaking industry and a top 50 papermaking company in the world. Shandong Sun Paper has six major product lines, namely premium coated packaging paperboard, high-class art paper, high-class cultural and office paper, specialty fiber dissolving pulp, household paper, and industrial paper.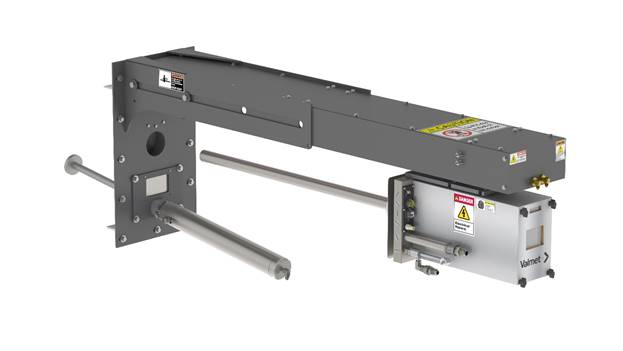 The Valmet Furnace Imaging System provides the most advanced integrated infrared (IR) imaging and temperature measurement capability for critical boiler areas.
Read more: https://www.valmet.com/automation-solutions/boiler-diagnostics-systems/
For further information, please contact:
Chenglin Si, Area Sales Manager, China, Automation business line, Valmet, tel. +86 21 3997 5000
VALMET
Corporate Communications
Valmet is the leading global developer and supplier of process technologies, automation and services for the pulp, paper and energy industries. We aim to become the global champion in serving our customers.
Valmet's strong technology offering includes pulp mills, tissue, board and paper production lines, as well as power plants for bioenergy production. Our advanced services and automation solutions improve the reliability and performance of our customers' processes and enhance the effective utilization of raw materials and energy.
Valmet's net sales in 2018 were approximately EUR 3.3 billion. Our more than 13,000 professionals around the world work close to our customers and are committed to moving our customers' performance forward - every day. Valmet's head office is in Espoo, Finland and its shares are listed on the Nasdaq Helsinki.
Read more www.valmet.com, www.twitter.com/valmetglobal
Attachment