What represented advanced automation back in the late 1980s no longer meets today's requirements for high plant efficiency and availability. Vaskiluodon Voima's Seinäjoki CHP power plant, SEVO, replaced its original systems with Valmet's*) latest automation technology.

The view from the control room over Lake Kyrkösjärvi in Seinäjoki, South Ostrobothnia, Finland, is stunning. The sun is shining, and the sky is blue. Plant Operator Harri Mäkelä and Shift Supervisor Hannu Annala, however, are far more interested in gaining a view into the plant processes, which their new process automation system and its advanced applications, commissioned in the fall of 2014, provide for them.

"The system is much more multifaceted and has more functions than the old one. If there are any problems in the boiler, the new automation handles them better," Annala says.
SEVO produces and supplies electricity and district heat. It features a boiler
capacity (steam capacity) of 299 MW, electrical capacity of 125 MW and district
heat capacity of 100 MW. The main fuels are peat (75%) and woodchips (25%). Coal is used as backup fuel, and heavy fuel oil is used during startups. The plant
was started up in 1990.
Target to lower risks and improve emissions reporting
The plant had good grounds for replacing the automation system as it represented outdated technology. "Spare parts and system know-how were no longer available. We and the original supplier were left with only a few people who knew how to make modifications to it," explains Plant Manager Pasi Salo. "This all presented risks in case something should to break."
Another major reason for the retrofit is the tightening emission monitoring and reporting requirements due to the EU's Industrial Emissions Directive, which will come into effect from January 2016. SEVO had a process information system supplied by Valmet in 2005, but it no longer fulfilled the new needs. "Additionally, we wanted to improve plant availability and efficiency by increasing the automation level," Salo says. "At this point, we decided to get a new fuel data management system, too."
After careful technical and cost-efficiency evaluations of the tenders from four automation suppliers, SEVO chose Valmet to supply the retrofit.
According to Plant Manager Pasi Salo, the plant had good grounds for replacing
the automation system, as it represented outdated technology.
According to SEVO's Project Manager Pentti Lidman, Valmet's advantage over the others was the ability to offer a more comprehensive delivery. He says: "Valmet was able to offer an automation system with integrated information and fuel data management systems. A fully integrated solution adds to efficiency and removes possible gaps between various systems."
The fact that SEVO's owner, Vaskiluodon Voima, has a long history of cooperation with Valmet also favored the supplier choice.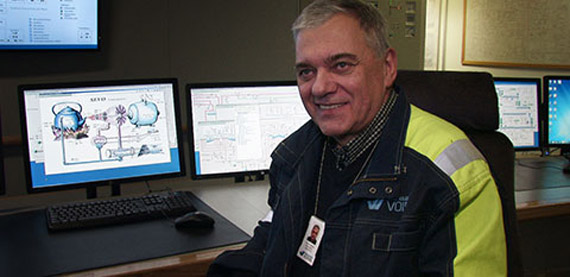 Project Manager Pentti Lidman appreciates Valmet's ability to offer an
automation system with integrated information and fuel data management systems. A fully integrated solution adds to efficiency and removes possible gaps between various systems.
The replay function is a valuable tool
"We have to keep in mind that this automation retrofit was not an automation conversion that can be carried out over one weekend. Instead, we developed new ways to run all functions," Lidman emphasizes. During the project, all plant automation was replaced with modern technology, except the turbine controller.
In the control room, all the displays were re-designed in cooperation with Valmet and the operators. Thanks to this tailoring, the operator displays and the tools within the system now fulfill all operator needs.
According to Lidman, one of the system highlights is the replay functionality: "Valmet was the only supplier able to offer this functionality of replaying operator displays in a history mode."
"It enables us to analyze events as well as learn from them and avoid similar situations in the future. We can find out and see what has really taken place at a particular time," adds Operations Supervisor Unto Lappeteläinen.
No more separate PLCs
The original automation system at SEVO was replaced by a DNA system with nearly 7,000 I/Os. Valmet also renewed the existing process information system as well as supplied new automation for the fuel reception, water plant, auxiliary boiler and ash handling.
"We had many separate PLCs and wanted to get rid of them and integrate them into the main automation system," Lidman points out. Now with all these functions on the same automation platform, all measurement data and alarms come directly to the main control room and can be accessed through one interface. There is less field work for the staff.
"Plus, it was more cost efficient to have only one automation system instead of replacing all the old systems. They had reached the end of their life cycles, and spare parts were no longer available," adds Pasi Salo.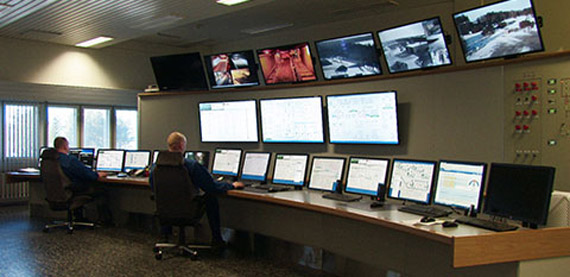 The tailored operator displays and tools within the new automation system
fulfill all operator needs at Vaskiluodon Voima's SEVO plant. Pictured shift
Supervisor Hannu Annala (left) and Plant Operator Harri Mäkelä.
Introducing a new boiler control concept
The plant and Valmet developed a new control concept for the fuel feed system in the boiler in close cooperation. SEVO's key person at this point was Unto Lappeteläinen, a man with decades of experience from over a dozen boiler automation projects around the world. "Valmet's control philosophy in feeding the fuel differs from our earlier one. It takes into account, for example, oxygen consumption and does not wait for pressure or temperature changes but predicts them instead," he says.
The new control concept has already proven its efficiency: the boiler runs in a more stable way. "However, we cannot fully benefit from the control concept since our process equipment is quite old." Lappeteläinen especially appreciates the control know-how of Pekka Niemi, Valmet's Senior Specialist in plant control applications. "If something needs to be optimized, Pekka knows how to do it! He's a true expert!"
Pentti Lidman adds: "At a plant like ours that runs on peat and biomass, you never know the exact heat value since the quality of fuel varies so much."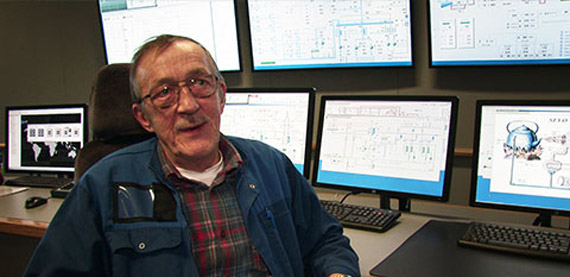 SEVO's Operations Supervisor Unto Lappeteläinen has decades of experience from over a dozen boiler automation projects around the world.
Better, more accessible reporting for all stakeholders
In the past decade, reporting technology has taken huge steps and the reporting needs have grown. So Valmet renewed the process information system, too. At SEVO, there were only a few people who knew how to take out reports from the old system. Also, consumption data about water, electricity, oil or district heat energy, among others, had to be checked on-site and transferred manually into the MS Excel format. Now the data transfer is automated.
According to Pasi Salo, anybody at the plant or Vaskiluodon Voima's head office can go and print out reports from the renewed information system. Additionally, the plant's stakeholders benefit from a more open system. For example, fuel suppliers have access to the fuel data management system, naturally through a safe firewall.
Valmet's delivery also included an Emission Monitoring application that meets the requirements of the new Industrial Emission Directive placed on large combustion plants. The same application was also delivered to Vaskiluodon Voima's other CHP plant in Vaasa, Finland.
On time and budget
According to all three men, cooperation with Valmet during the project was good. The supplier carried out the project on time and budget. The companies signed a service agreement to ensure high system availability, and Valmet set up a service office in Seinäjoki to provide rapid response. "All in all, the project went well and we achieved the targets we had set. Hopefully this automation will last for the next 25 years," Pasi Salo concludes.
Now that the project is successfully over, Unto Lappeteläinen reveals his thoughts about the supplier choice. "Quietly in my mind, I hoped that Valmet would be chosen. The DNA automation system is multifaceted in many ways. It's definitely a good choice!"
For more information:
Olli Koivumäki Olli.Koivumaki (at) valmet.com
*) Company and product name Metso until March 31, 2015.