Today's winding processes are highly automated with fewer operators and maintenance people involved. To enable even better winder performance, Valmet has developed a new way to systematically work together with the customers.
Better equipment availability, quality, process safety, best practice operations as well as optimized balance between maintenance costs and performance – this is what papermakers are after in their winder operations. Valmet's winder agreement services can help the papermaker achieve these goals.
Traditional audits and condition tests are making way for closer cooperation. This means making maintenance plans together, moving from single deliveries towards shared actions and targets. Valmet's specialists support customers by creating or updating equipment maintenance plans, specifying the needed maintenance parts and by benchmarking the consumption of consumables, such as slitter blades.
Tailored agreements for each mill's needs
Each winder service agreement is tailored to meet customer-specific production or maintenance needs or both. To enable Valmet to understand the customer's current winder performance and operations, it is important to study and discuss the existing performance values, fault history data, possible bottlenecks, costs, maintenance plan status, resource status and future targets related to the winding equipment. This process creates a basis for the agreement contents and key performance indicators (KPIs). The latter can be set for material management, equipment/components, winding process, quality, costs or tasks.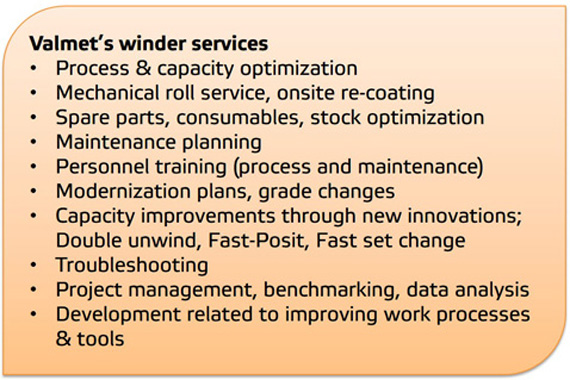 More focus with the upkeeping program
At the beginning of the cooperation, Valmet creates or updates a winder-specific upkeeping program together with customer. It describes the service tasks on a shift, daily, weekly, monthly or yearly basis and the responsibilities for them. A detailed list of tests and periodical service work is included, too. The upkeeping program is available for Valmet winders and for other suppliers' winders as well. The winder's maintenance plan, fault history and other existing equipment specific KPI's will be utilized to define the equipment's present condition. The upkeeping program can be tailored according to customer needs with regard to personnel know-how and available resources.
This makes it possible to optimize the use of needed resources in the winder area. Additionally, the mill personnel's skills develop, enabling them to take care of the basic maintenance tasks defined in the upkeeping program.
Taking cooperation one step further at SAICA Paper UK
Since the start-up of its OptiConcept machine PM 11, SAICA Paper mill in Partington, UK, has outsourced all its maintenance operations to Valmet. As the complete lightweight containerboard production is handled by one winder, a WinDrum Pro, there is enormous pressure on its high performance and availability.
To remove possible bottlenecks, the mill and Valmet have successfully worked on improving winder maintenance operations. "We have been able to boost winder runnability, availability and speed," says Pasi Häyrynen, Plant Manager, SAICA Paper UK.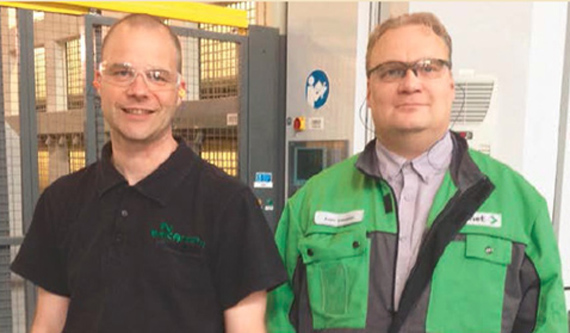 Grading preventive maintenance tasks
SAICA Paper UK and Valmet have now taken maintenance planning one step further by further developing the preventive maintenance task descriptions and grading the tasks related to the winder into four classes based on the competence level needed. In Grade 1, the operators check, for example, vibration, temperature or leaks. In Grade 2, there are tasks, such as lubrication, to be carried out by Valmet's maintenance team or a subcontractor. In Grade 3, the more demanding tasks involve technical knowledge provided by Valmet's mill maintenance team. The tasks in Grade 4 call for Valmet winder specialist.
"Once this new philosophy has been fully implemented, it will further improve winder availability. We will also be able to increase the average winder speed," Häyrynen continues. "It will also add to the capabilities of our own mill staff and that of Valmet. As the task descriptions are much clearer, everybody knows what to do. This will improve overall efficiency related to winder operations"
Systematic maintenance brings better performance
Both SAICA Paper UK and Valmet share the same goals: to produce the planned tonnes and avoid unplanned shutdowns. "As there is a target to increase production line speed every year, more attention has to be paid on the winder," adds Antti Veistinen, General Maintenance Manager, Valmet Mill Maintenance Outsourcing, who heads the approximately 40-member maintenance team at the mill.
"This is exactly what we will do with the new systematic proactive maintenance approach. By taking better care of the equipment, it will perform better and we can secure the set targets," he says.