Paper, board and tissue makers all have their own roll surface structures that they are used to having on their press section rolls. In many cases, those structures have been there from day one and may no longer be the most effective ones, taking into account advances in materials, felts and knowledge.
Valmet has taken advantage of its long history of machine and process development to update the recommended press section roll surface structures for each paper grade to achieve optimum operation. This revised recommendation is based on pilot runs and feedback generated from the hundreds of process roll cover deliveries and production machines Valmet has delivered over the years. The recommendations will improve production efficiency, remove shadow marking and provide flexibility in using press rolls at different positions in the press section.
How to choose the right surface structure
Blind drilling (BD) is recommended basically only for rubber covers, as they usually cannot withstand dense grooving very well. Grooving is known to be far more effective for dewatering than BD, and thus grooving is recommended whenever the cover is suitable.
As polyurethane-based (PU) covers are so much stronger than rubber, they can withstand grooving, even combined with blind drilling. The strength of a polyurethane cover means there is no need to carry out blind drilling at two depths; only one depth is needed. This offers more useable thickness and a longer total service life for the cover.
Valmet Press Roll Cover VT

is Valmet's tough composite cover for grooved press rolls.

Valmet Press Roll Cover PF is a long-lasting polyurethane cover providing low water intake and dependable quality for felted, plain, grooved and/or blind-drilled press rolls.
As blind drilling can be a source of shadow marking, particularly when thin felts are used on sensitive grades like wood-free ones, the BD diameter needs to be correctly selected for each purpose. Valmet now has revised recommendations for the correct BD diameter for each grade to totally prevent shadow marking. In practice, the open area percentage does not have much effect on marking.
Optimal dewatering based on experience
Nip dewatering has proved to remove water from the web much more cost-effectively than traditional suction box-based felt dewatering. Printing paper, thin liner and board grades can make particularly good use of nip dewatering. Adequate active void volume on the press roll surface is required for though, which can best be arranged by grooving.
When dimensioning the optimal grooving, it is necessary to ensure the void volume in each area is adequate for the amount of water in the press nip, as well as taking into account the material strength and the practicality of re-grinding. Avoiding groove closure and shadow marking is also of great importance. Based on Valmet's numerous trial studies and strong field experience of different machines and paper grades, these challenges are being addressed in enhancing the dewatering performance.
Correct drilling for improved water flow
Suction drill dimensioning and patterns have also developed over time. However, in real life the suction shell is not often renewed, and thus one needs to utilize the existing pattern. The thru-hole diameter in the cover needs to be smaller than the drilling in the shell; usually at least 0.2–0.3 mm. As water flow is determined by the hole radius by a power of four, it is essential to select drilling correctly in order to avoid shadow marking on the web (see figure).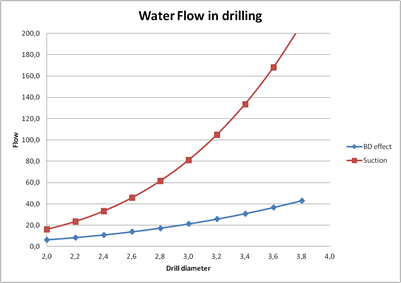 Water flow correlation by drilling diameter, with all other factors constant.
When you are considering new roll covers with optimized surface structure for your press section for cost effective de-watering, please contact your local Valmet representative.
*earlier known as Ventex
**earlier known as PressFox