Refiner segments for board and paper machines
Working closely with papermakers, Valmet develops technologies and solutions that optimize performance based upon the pulp processing needs and refining goals of each customer mill. Valmet serves customers with the most complete offering of refining technology in the industry. Our vast array of low consistency and high consistency refiner segments, segments and fillings help drive performance across any application.

Ensuring the proper refining consistency can
Increase the probability of fiber mat formation
Maximize fiber strength
Maximize segment life
Minimize variations

More patterns, optimum design
Valmet refining experts work with customers to consider these parameters and develop segment solutions to optimize their specific refining processes and move their performance forward.
Using the resources and expertise first introduced by legacy segment manufacturer J&L Fiber Services, Valmet refining experts guide customers through a six-step refiner optimization process to identify each mill's top challenges and propose distinct options to enhance refiner productivity through segment design, pattern and alloy selection.
Depending upon the goals of each mill, this collaborative process works to
Improve pulp strength
Increase refining capacity
Reduce fiber plugging
Reduce fines
Increase segment life

Optimize bar width
Reduce energy consumption
Increase production rates
Reduce shive levels
Implement safer designs
VALMET REFINER SEGMENTS PORTFOLIO for board and paper mills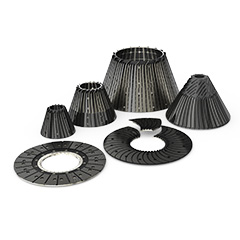 Low consistency refiner segments
Valmet Low consistency refiner segments give customers the flexibility to customize their approach to fiber processing to achieve specific goals in refining performance. Our refining experts works in close cooperation with customers to design and produce segments that are tailored to their individual needs.