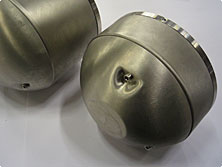 Valmet Doctor Oscillators provide up to five years of reliable maintenance-free service.
Valmet Doctor Oscillator* family now includes a new oscillator generation. Pneumatic doctor oscillators, which are designed for paper and board machines' roll doctors, are characterized by long service lives, unsurpassed reliability, limited maintenance needs, and compact construction.
Valmet Doctor Oscillators come in two sizes providing either 11,000 N / 6 bar or 22,000 N / 6 bar of thrust. Both models are easy to install and coupled with one of several adaptor kits can also replace existing electromechanical doctor oscillators. Doctor oscillators can be used on any paper machine, not only those manufactured by Valmet or Metso.
The length of the oscillation stroke is preset at 15 mm during assembly, but it can be freely adjusted between 10 mm and 16 mm. The stroke frequency is adjustable between 1 and 10 strokes per minute. The compressed air pressure used can range from 2 to 10 bar; the recommended operating pressure is 6 bar. The oscillator is always active while compressed air is turned on.
New design adds versatility
All external oscillator components are made of acid-resistant steel, which means that the same unit can be employed equally well at the challenging wet end of a paper or board machine as at the machine's dryer section. The sealing materials used have brought the oscillator's maximum operating temperature up to 180°C. Compact size is an advantage when the space reserved for an oscillator is limited. The smaller of the units measures 124 mm in length and the larger 178 mm. The diameter of both models is 199 mm. A two-part oscillator housing removes the need for a full-length free space behind the oscillator as the unit can be accessed for adjustments, etc. by opening only the back half of the housing. Used as instructed, the oscillator housings are warranted against rust-through for a period of five years. Both units are lightweight with the smaller weighing 8.5 kg and the larger 11.5 kg. The weight of the oscillators will thus not place any undue stress on the doctor bearings.
*earlier known as OsciPro