AdvantageTHRU-AIR Technology for structured tissue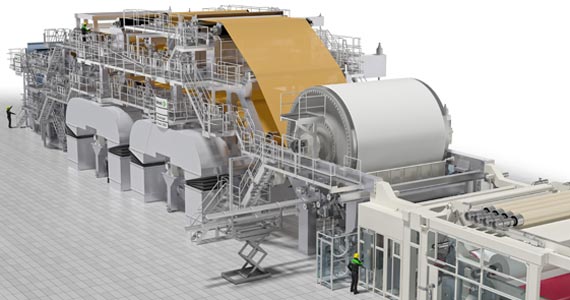 Supreme quality with unbeatable absorbency and softness
Consumer demand has led to an impressive growth in the quantity and variety of TAD products on the market. The TAD process delivers a product that is softer and more absorbent than conventional technology allows; characteristics that consumers really value.
The TAD process is removing water first by vacuum and then by passing hot air through the sheet. This generates a high bulk fully structured sheet. A distinctive pattern is then imparted to the sheet as it passes through the dry press by the TAD fabric to produce a soft, flexible and bulky product.
With more than 50 Valmet TAD technology tissue making machines, plus rebuilds and air systems installed worldwide, we are well qualified to bring this technology to you at the lowest possible cost.
Valmet's Thru-Air Drying technology is one of the most effective drying methods for increasing bulk and softness as well as strength and absorption. It is particularly suited for production of superior quality bath, towel and napkin grades from virgin or recycled pulp.