Keeping your production rocking and rolling
How does your business sound like? Hopefully, there are no vibrations, annoying breaks or disturbing shutdowns
Valmet Rolls and Workshop Services is a winning combination of the latest technology and rock-solid maintenance expertise. We help you eliminate unplanned shutdowns, increase the running times of rolls and equipment and improve the end product quality.
The wide selection of services extends from roll reconditioning and new roll technology to upgrading and reconditioning of pulp & fiber line equipment, as well as efficiency projects and preventive maintenance. For every mill in the world, we have a specialist near to you in our +25 Roll Service Centers.

Just contact us, and let the good times roll into your production.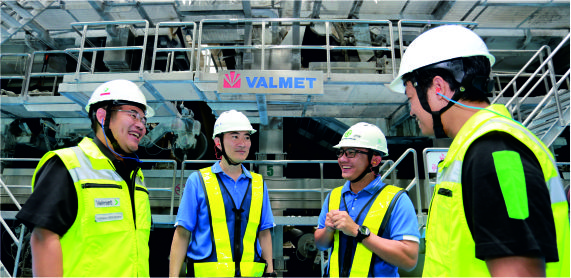 Thai Cane Paper tackled press section problems in close cooperation with Valmet's Laem Chabang Service Center and global experts.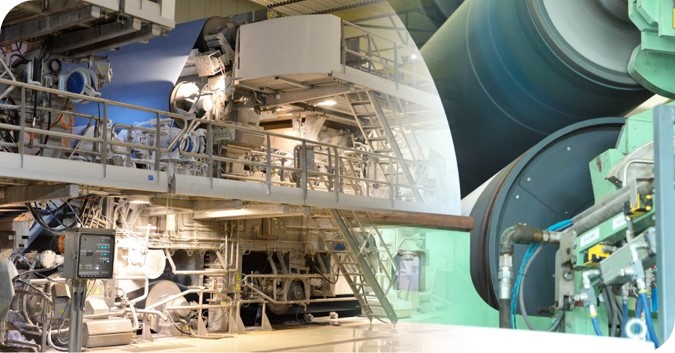 To ensure its paper machine roll reliability and availability, the Kerinci mill has entered a full-scope roll service agreement, including a condition monitoring system.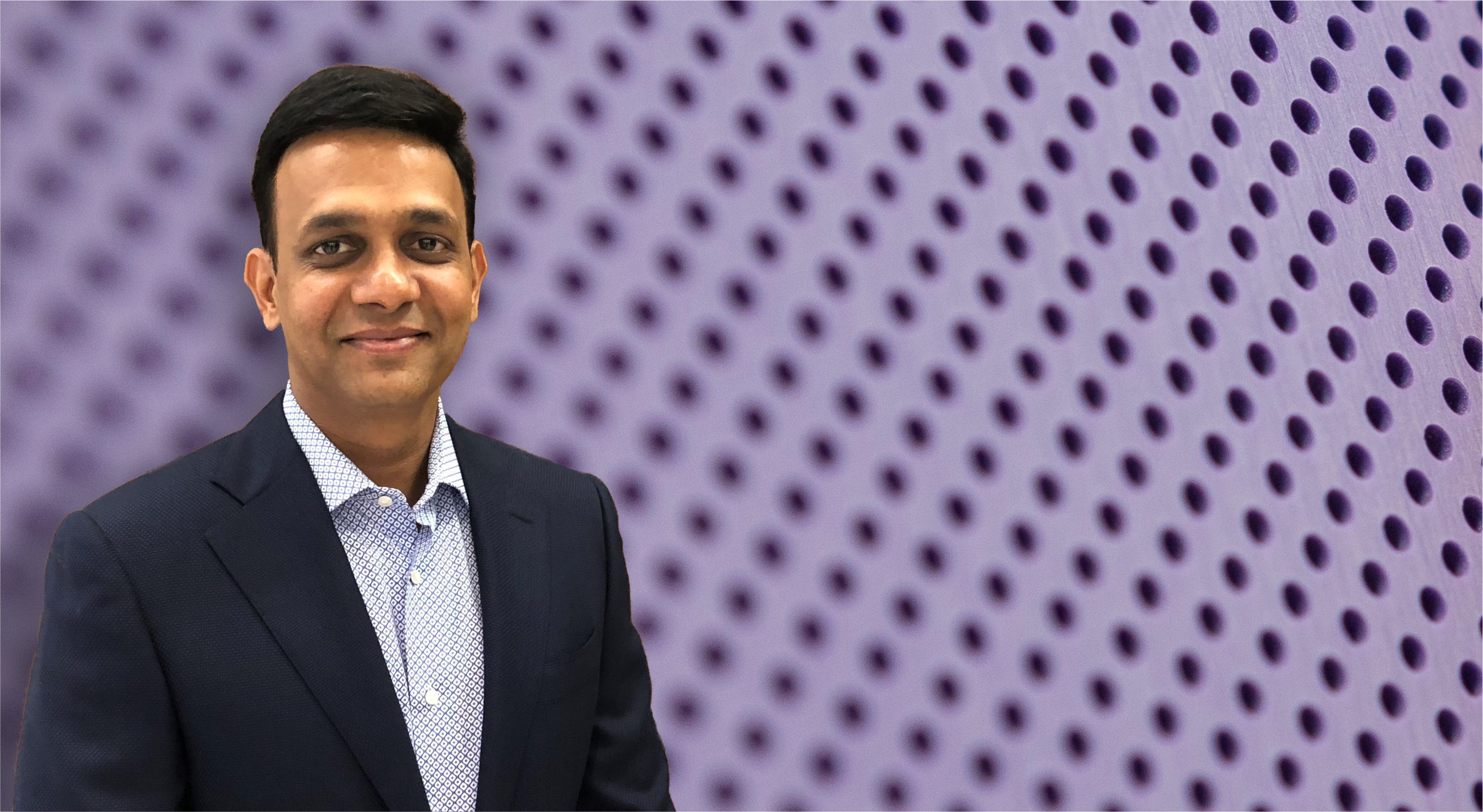 The Indian board-maker Vijay Anand has overcome the challenge of traditional rubber covers by upgrading with a Valmet roll cover.

Modular Maintenance Solutions provide maximum performance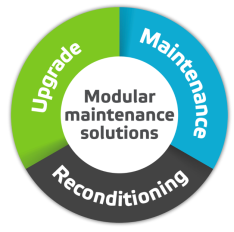 Benefits with modular maintenance solutions


Clear offering and scope – you know what to expect.
You can easily build the service combination you need from the modules.
You pay only for the necessary work – saving you money.
You approve all additional work, including parts and repairs, before it is carried out.

Reconditioning, upgrades and additional solutions for mechanical pulping, fiberboard & energy
Our responsibility of providing excellent service extends to the reconditioning, upgrade and additional service for feeders, refiners/defibrators and TwinRoll presses. Customized service combinations the use of latest Valmet technology, are the key factors for reliable processes and extended lifetime.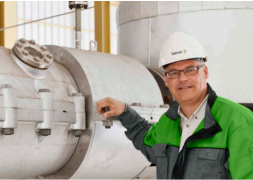 Reconditioning services include
Inspection of drop-in units worn parts and analysis of damages not included in normal wear
Surface treatment, replacement or upgrade of parts at minimum repair time with spare parts stock
Reassembly and product test running & protocol to assure product quality
Careful handling of drop-in unit for delivery
Full report including recommendations to avoid future cases of similar damages

Intelligent Roll Solutions – Data beyond the rolls
Intelligent Roll Solutions will turn your roll into an intelligent service platform, providing a new way to analyze data and network globally. This data beyond the rolls can help you achieve your production targets for enhanced efficiency and cost savings.
Improved press efficiency
Better sizer profiles and end product quality
Improved dry end material efficiency
Better press energy efficiency for tissue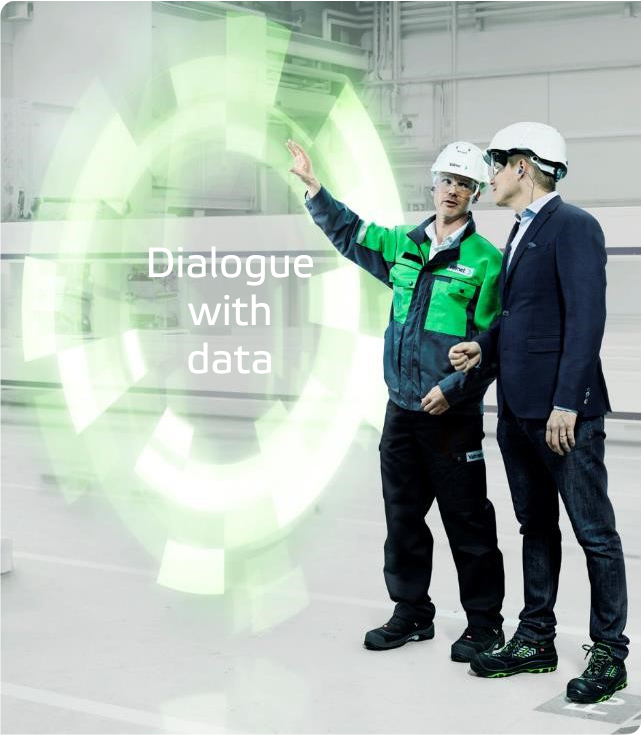 What you can achieve with Intelligent Roll Solutions?
Turn your rolls into a paper machine data source for performance optimization
Use this data for process improvement together with Valmet's global network of experts
Gain longer lifetime for covers, felts and consumables with optimal crownings
Improve both your production line's runnability and the end product quality
Get more tons with less costs
Enhance efficiency and save costs with data beyond the rolls!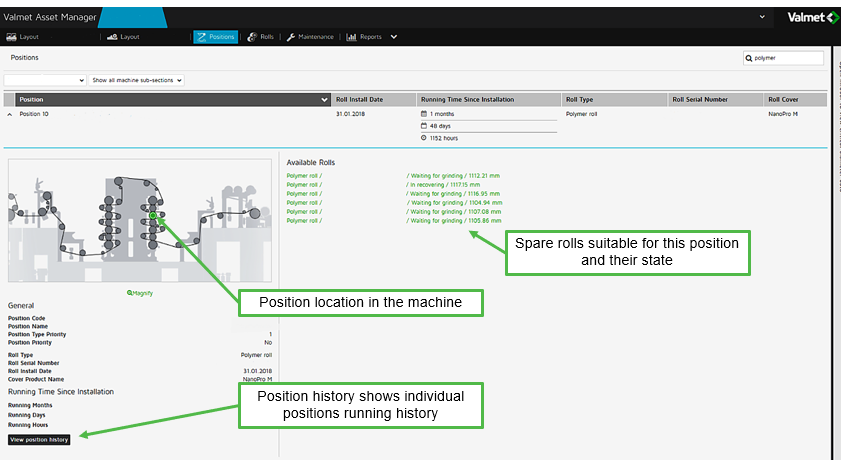 Clear and visual overview to your roll population
Valmet Asset Manager is a web-based computerized system which contains all critical roll-related information in one place. It includes, for example, up-to-date roll status and location information to indicate where each roll is in given time frame, availability of spare rolls and running period statistics. Valmet Asset Manager is easy-to-use tool for mill-wide information sharing.