Valmet's role in the circular economy
The circular economy aims to keep products, components and materials in a continuous cycle instead of disposing of them. Valmet has a strong role in the circular economy by offering customers technology and services for converting renewable resources into sustainable products such as pulp, board and bioenergy.
Helping customers to implement the circular economy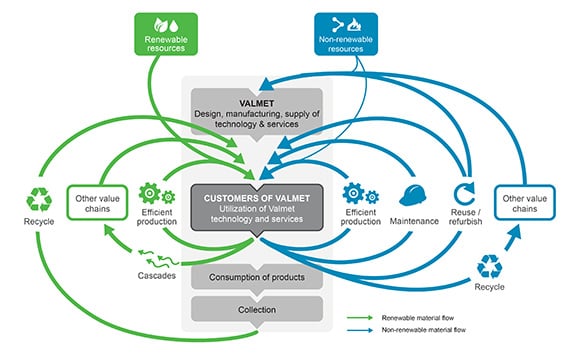 Customers can improve and optimize their resource efficiency by using Valmet's technology and maintenance solutions. Intelligent machines and advanced automation optimize resource
use and save raw materials and energy.
Valmet's energy boilers and gasification technologies enable the flexible use of a wide range of renewable fuel sources for energy production, reducing the need for non-renewable fuels. This includes efficient energy recovery from various waste streams, including agricultural, industrial and municipal waste.
Valmet's solutions for pulp production are built on efficient and sustainable extraction of fibers from wood, while also focusing on chemical and energy recovery in the processes. This allows materials to circulate within customers' production processes for longer and decreases the need for virgin resources.
Valmet's machinery design and services enable flexible reuse and conversions. The effective lifetime of equipment can be significantly prolonged with well-planned maintenance and partial replacements of production assets. Modular design and smart engineering enable to use the same equipment for other purposes, and make it possible to modernize production equipment and maximize their efficiency with the latest solutions, with only having to upgrade part of the machinery.
Valmet is introducing new technologies to expand the use of bio-based materials and to introduce new bio-based products, decreasing the need for non-renewable materials. The possible cascades include e.g. bio-oil, biocoal and extracted lignin, which can further be used for making bio-based chemicals and materials.
Resource efficiency in Valmet's own operations
Valmet is also implementing the circular economy in its own operations by continuously improving resource efficiency, maximizing utilization of metals, using a resource efficient supply chain, shared use of assets and preventive maintenance.