Valmet CFB Boiler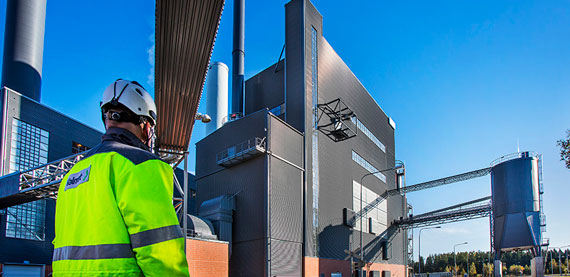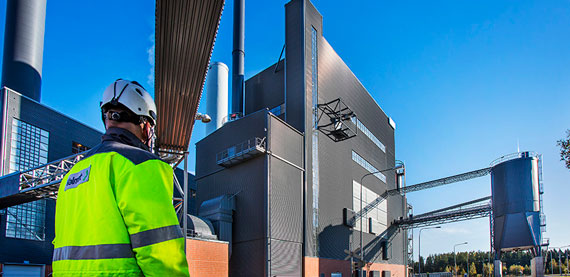 Valmet CFB Boiler (formerly CYMIC) is an advanced circulating fluidized bed (CFB) boiler developed by Valmet. It combines high-efficiency combustion of various solid fuels with low emissions, even when burning fuels with completely different calorific values at the same time. The wide size range covers boilers from 30 to 1200 MWth.
High fuel flexibility
The main advantage of the Valmet CFB Boiler is its superb fuel flexibility. Most of the over 90 references around the world are multifuel boilers that combust biomasses and fossil fuels in continuously varying proportions. Co-combustion is an environmentally benign method of combining excellent reliability and availability with great potential to optimize operational costs by allowing several fuel alternatives.
Valmet CFB Boiler offers ideal combustion technology for:
Biomasses, including fuels derived from agricultural waste streams
Recovered fuels
Various type of coals
Solid petrochemical residues, eg. pet coke, asphaltene, solidified pitch
Any combination of the above-mentioned fuels
Efficient combustion, low emissions and high steam parameters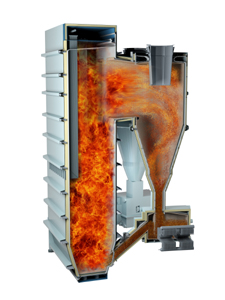 With CFB technology, the circulating bed material flows together with flue gas through the furnace, after which it is separated from the gas and returned back to the lower part of the furnace with cyclones. This technology provides an even combustion temperature profile, which is optimal for handling a wide variety of fuel properties, such as heating value, moisture, ash content and a number of low melting point ash components. This also ensures low primary emissions with high combustion efficiency and excellent utilization of additives for sulfur removal and other special purposes.
The key element in the CFB boiler is the cyclone. It uses high-efficiency cylindrical cyclones constructed of membrane walls covered by a light refractory for erosion protection. No hot expansion joints between the furnace and the cyclone are needed.
High steam parameters are possible without severe corrosion, even with recovered fuels, thanks to fluidized bed heat exchangers located in the loop seal.
For recycled fuel combustion, the Valmet CFB Boiler is equipped with a special grid design for effective debris removal and a back pass, including an empty pass and easily replaceable superheaters.