Advantage™ Hydro-Dry®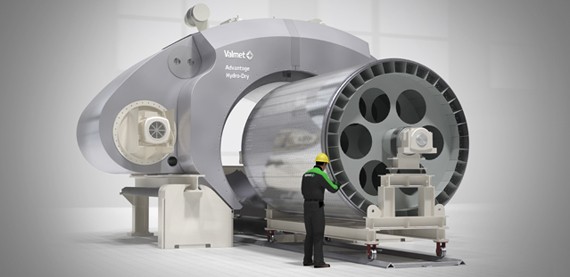 A great Nonwovens dryer gets even better!
Valmet's new Advantage Hydro-Dry family represents the most advanced
integrated drying technology available. Redesigned from the
ground up, this new dryer system takes the best from Valmet's classic
Hydro-Dry design and reinvigorates the technology to address 21st century
Nonwovens industry production and sustainability requirements; bringing
efficiency and performance to new levels.
Advantage Hydro-Dry still features an integrated air drying system now
redesigned to provide even more cost-effective drying solutions. Advantage
Hydro-Dry delivers your Nonwovens product to the next process with uniform
texture while maintaining the loft and softness of the web.
Valmet's Advantage Hydro-Dry is perfectly designed for maximum air recirculation. This means you get the highest thermal efficiency with low power usage.
High strength and low weight construction:
Maximum process air with negligible pressure loss
Minimal mechanical load and thermal deflection
Easy maintenance
The "roll-out" design allows for access to both the roll surface and the hood for
easy maintenance.
The self-contained unit reduces installation costs through:
A more consolidated overall system size
Minimal roof and wall penetrations
Dual air chambers with separate burners and fans allow for two temperature zones so, if needed, the web can be heated to two different temperatures in the same drying cycle.
When it comes to thermal drying, Valmet's extensive experience in Thru-Air® technology delivers the very best performance and quality. You will find Valmet Hydro-Dry and Honeycomb® Roll technology in the most advanced Spunlace and Wet laid nonwovens lines in our industry. Now Hydro-Dry technology has been fully re-engineered to give you the Advantage of efficiently meeting today's challenging industry requirements.