Bajaj Group's Lalitpur Power Generation Company in India chose Valmet DNA automation system for each of its three 660 MW units at a super critical coal-based thermal power plant in the Lalitpur Dist. Bundelkhand area of Uttar Pradesh. All three units have now been commissioned and are commercially operating, representing the largest-ever integrated Valmet DNA project, which includes the whole plant area in total scope. BHEL of India worked as Valmet's technology partner to successfully deliver the project.
Partnering with Bharat Heavy Electricals Limited (BHEL)
Bharat Heavy Electricals Limited (BHEL), Valmet's Technology Partner in India, designed, manufactured, supplied, installed, tested and commissioned the microprocessor-based distributed digital control and instrumentation system using
Valmet DNA
technology for Lalitpur's 3 x 660 MW power plant's units.
Valmet worked closely with BHEL throughout the entire project, visiting onsite to support BHEL with the commissioning phase and remote assistance to address and resolve any type of technical issue.
Kari S. Heikkilä, Director, Partner Business, Valmet, says: "Strategically, Value-Added Resellers are important sales channels for us. BHEL is one of our most important partners. It is the largest supplier of power plant equipment in India. Several big power plants in India, including Lalitpur, are now using our automation system."


Positive experience with Valmet DNA
When asked why Lalitpur chose Valmet, both BHEL and Lalitpur feel that the most valuable reason to work with Valmet is the company's integrity with their customer. Unlike most other manufacturers, Valmet is always there to support the end user at any cost.
"Valmet DNA has enabled us to produce reliable and efficient electricity," says Subhranshu Mohapatra Deputy General Manager (C&I). "In my opinion, Valmet DNA is an open system, and in this case, redundant, which is, of course, required," says Lalitpur's Senior Engineer Ashutosh Singh Kashyap.
From BHEL, Kunal Jha, Senior Engineer, Power Sector, Eastern Region, is convinced of the user-friendly automation solution. "My experience with Valmet DNA is very positive. It seems to be a very reliable and robust system," he says.
Power plants of this size are quite common throughout India. They mainly use coal and the electricity produced is delivered to the national grid. To date, the Valmet DNA automation system has never before been delivered to such a large power plant in India.
Markku Henttu, Manager, Strategic Accounts, Valmet, explains, "India has one of the largest power generation capacities in the world. Our market share is growing reference by reference, which continues to strengthen the awareness of Valmet and our track record as a reliable supplier."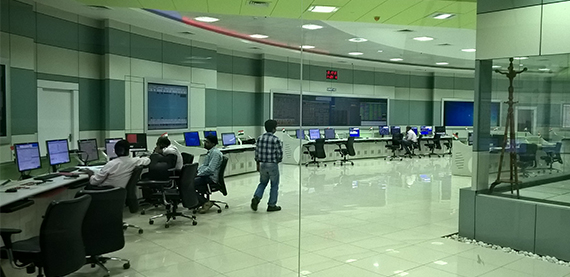 Valmet's delivery
The entire Valmet DNA delivery scope supplied by BHEL covers all the control equipment, their subsystems & ready control loops for main plant as well as offsite/common systems. These include the burner management system, secondary air damper control, soot blower controls, High-Pressure ByPass system (HPBP), Low-Pressure ByPass system (LPBP), feed water ctrl, furnace pressure ctrl, furnace to wind-box DP ctrl, CMC ctrl.
Also all drives logic, auxiliary pressure reducing and desuper heating system, turbine auxiliaries control, boiler auxiliaries control, unified human-machine interface and data acquisition system, as well as plant controls for coal handling, water treatment, ash handling and heating, ventilation and air conditioning (HVAC) & Fuel Oil Pump House (FOPH) are included.
In the future, the scope has been planned to expand to plant management and Industrial Internet applications.

For more information, please contact:
Markku Henttu
markku.henttu(at)valmet.com