Optimized process control through enhanced agitation

Webinar Date: November 1, 1pm EDT, 45 minutes + Q&A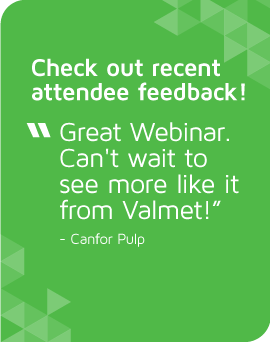 Webinar Description
Proper agitation is essential to blend fibers, prevent settling, and mix dilution streams entering the stock chest. It requires consideration of various factors, including volume, furnish type, consistency, production rate, temperature, and chest geometry. Ultimately the goal is to achieve complete motion and limit outlet consistency variation within specific tolerances, depending on the application. Join us November 1st, for the online webinar Optimized consistency control through proper Agitation.
During the webinar, we will cover the following:
What is agitation and what is its role in stock preparation
Proper sizing of an agitator for new & existing applications
How to assess agitator performance
Operational guidelines for optimal agitation and reliability
Energy saving solutions
[NOTE: The webinar will be in the English language. This webinar is only offered to pulp, paper, board and tissue producers, P&P industry consultants and university faculty and students. Use your company or university domain email address when registering. Products and services mentioned in this presentation may not be available in all regions.]


VALMET PRESENTER



Andrew Gwarjanski
Senior Product Aftermarket Manager
Pulpers and Agitators

Andrew Gwarjanski is a Product Manager in Stock Preparation and Recycled Fiber with over a decades' worth of experience in the pulp and paper industry. Upon graduating college, Andrew began work with GLV and remained at the company after it was acquired by Valmet in 2019. He has a mechanical engineering degree from the University of Maine where he was also part of the pulp and paper foundation. Andrew also has an MBA from Southern New Hampshire University. He's currently responsible for leading the pulper and agitator product lines in North and South America.

We listened to all of the great feedback we received on enhancing our webinar program for 2023 and will now be offering Certificates of Attendance. In order to receive a Certificate, you must attend the webinar up until the Q&A portion.