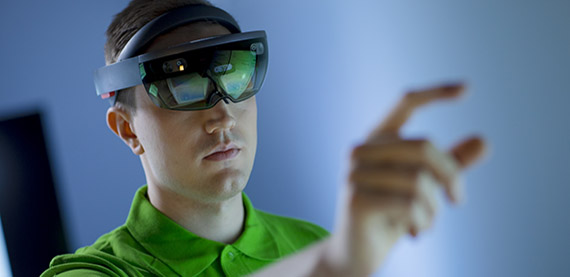 VR, AR, MR, XR… Has the virtual world felt difficult or even pointless to enter? If yes, now the time is ripe. With the key technological challenges solved, virtual tools are making a breakthrough in the industrial environment bringing possibilities never seen before.
The virtual reality (VR) and augmented reality (AR) and their applications have developed rapidly during the recent year. In industrial environments, we can use equipment that is already familiar from consumer markets. Younger generations keen on computer gaming seem to be especially enthusiastic about experimenting with and applying VR and AR in their work. Even better, the technical properties of software and equipment are becoming more accessible in terms of price.
Experiencing creations before they are built
Together with our customers, we can create endless solutions the virtual reality can be implemented in. Virtual reality can help to visualize complex industrial environments, streamline maintenance, and decrease costs at mills and plants, just to mention a few.
For engineers and designers, the VR technology offers a brilliant way to demonstrate new technologies, products and services at a very early stage – something that would have been impossible before. Engineers and manufacturers can experience their creations before they are built. We have, for example, developed applications that allow people in different countries to appear next to another in the same virtual plant or mill site and interact with each other. It creates that heightened sense of reality.
Real life value
And there is more to come. We at Valmet want to be at the forefront in developing virtual applications that offer real life value, like operational efficiency, time and money savings and improved safety on work sites, to our customers.
As progress marches forward and innovations in science and technology evolve, virtual reality and its applications will play a major role in the daily corporate business – they will become an industrial standard. I am curious to see where this journey takes us all. Are you?