Water is a scarce natural resource. World Water Day, held on 22 March every year since 1993, celebrates water and raises awareness of the 2 billion people living without access to safe water. A core focus of World Water Day is to support the achievement of the United Nations Sustainable Development Goal 6: water and sanitation for all by 2030.
Many of our customers operate in areas with water scarcity and Valmet has therefore been working with this challenge for a long time. Our tissue mill technology for example has reduced average mill water consumption by 80% since 1990. 'With our experience, know-how and innovative solutions we have managed to significantly reduce water consumption and at the same time maintain process stability and increase overall efficiency', explains Ulf Johnsson, Concept Manager Mill Technology & EPC. 'Our tissue line process concepts also enable customers to adapt to different water situations like availability, quality and seasonal variations'.
Innovations driving water efficiency
One of the innovations is Valmet's ultrafiltration technology which uses the tissue machine's process water to produce ultrapure water that can be recycled back into the process and thereby eliminate the need for new freshwater inputs.
Another technology that supports reduced water consumption is the ViscoNip press with its capability to supply a higher press dryness than other traditional technologies.
Driving development of resource efficient tissue production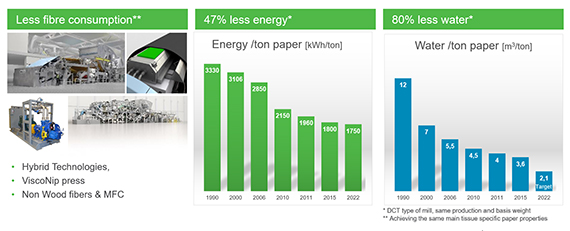 Progress in reduced environmental footprint.
Valmet's Sustainability360° Agenda covers water efficiency and closed water cycles
Sustainability is at the core of Valmet's business strategy and operations. Valmet's values, Code of Conduct and related policies as well as selected globally acknowledged initiatives and principles create the foundation for sustainable performance. Valmet's Sustainability360° Agenda takes a comprehensive approach across the value chain including supply chain, own operations and the use phase of Valmet's technologies at customer sites. Environmental efficiency and circularity are part of the agenda's nine main material topics.