Performing a chemical cleaning of a boiler can be a time-consuming and difficult job. To make this job easier, Valmet offers chemical cleaning advisory services which will provide you with a safe and time saving chemical cleaning plan for your boiler. Valmet can handle the complete job from start to finish, making sure the results are what you are looking for. With a solid track record of successful projects, and nearly 40 years expertise and experience, Valmet will help you make sure your boiler is chemically cleaned safely and efficiently.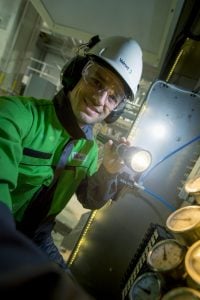 While other companies will only consult and explain to you how you can clean your boiler, Valmet can go further by performing full turn-key services for you. We will derive the cleaning procedure for any system to be cleaned with reactive chemistry as well as determine deposit weight loading and perform solubility testing. Our services will provide safer, shorter shutdowns of your boiler, and cleaner boilers when we are finished.
Our expertise includes planning, procurement, mechanical preparation, cleaning execution, inspection and reinstatement and startup. Our thorough up-front planning for safety, technical, mechanical and environmental concerns will prevent time consuming last minute changes. While working closely with all parties, our planning will allow for other jobs to be performed in the work area while the chemical cleaning is being performed, keeping the outage as short and economical as possible. Our proven chemical processes are time saving and sludge minimizing and our final passivation process will limit the amount of time for boiler water cleanup on startup to 24 hours or less.
Depending on the job requirements we can provide other services including isometric pipe route drawings, chemical cleaning vendor via subcontract and mechanical contractor for mechanical preparation and reinstatement via subcontract. As we will be onsite monitoring the entire process, we also provide post-cleaning inspection of drums, headers, tubes, lines and piping - and a final report of the entire project.
When it comes to boiler chemical cleaning, no company can match the full service job that Valmet performs. Our total project supply and decades of experience make us the best option to be trusted with your boiler cleaning project. Our expertise is not just limited to boilers - contact us here to learn how Valmet can advise you on the chemical cleaning of other systems including steam systems including superheaters, black liquor evaporators and concentrators and green liquor piping. We will do the total job for you and will have your system clean and running efficiently.
For a full list of chemical cleaning advisory services or to contact Valmet, click here or on the Related Links.