Valmet's Shoe Press Users Group (SPUG) is a mill-focused discussion of common shoe press issues with answers to operational and maintenance questions. SPUG concludes with a roundtable discussion involving operators and Valmet technologists from every function involved with shoe pressing technology: automation, hydraulics, service, machine clothing and more. Here are examples of shoe press technology that have been discussed at past SPUGs:
Valmet Black Belt shoe press belt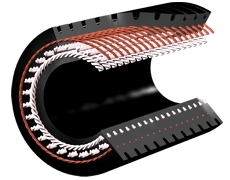 Valmet Black Belt Extreme, Valmet's latest shoe press belt, is an exceptional shoe press belt made of high performance polyurethane combined with an extremely stable high modulus reinforcement structure. This builds on the proven Valmet Black Belt technology that started years ago. The 1000th Valmet Black Belt was delivered to Papierfabrik Palm in 2013 and ran on their PM6 for almost 200 days. Valmet Black Belt is available in several reinforcing structures and surface options to fulfill the demands of every shoe press. It is wear-, chemical- and heat resistant, ensuring long and trouble-free running. Not surprisingly, Valmet Black Belt has excellent running results from many demanding shoe press belt positions.
Valmet Belt Roll Doctor for shoe press rolls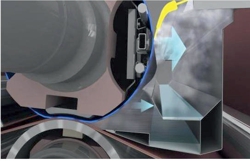 Proper doctoring of the shoe press rolls enables more efficient nip dewatering as well as better cleanliness at the press section. The Valmet Belt Roll Doctor is a doctoring solution for different shoe press concepts which increases the vacuum effect in belt grooves and thus prevents water rimming around the belt. Valmet Belt Roll Doctor provides many benefits including increased dryness after the press, improved moisture profile, improved cleanliness and up-time and longer felt service life-time - all proven in production situations.
Shoe Press Users Group Conference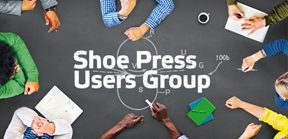 This two day conference is designed for shoe press users to come together and exchange ideas and experiences. The conference is driven by the requirements of each attending mill - with conference input directly from you, the shoe press users. There is no charge for the seminar, but space is limited and on a first come / first served basis. Join us for discussion of operator issues and best practices, shoe press configurations and upgrades, troubleshooting tips, theory and roundtables. Hundreds of attendees can't be wrong, so make this a must-do event on your training/conference list!
For more information on improving your shoe press operation, contact your Valmet representative and click on the Shoe Press Users Group link in the Related Links.