Valmet Liquor Sprayer Station Agreement
Valmet now offers a fixed price multi-year agreement to improve personnel safety and recovery boiler performance. Valmet will supply new liquor sprayer stations and maintain them in as-new condition for multiple years.
Benefits
Valmet's Liquor Spray Station is designed for safe and ergonomic working conditions, better combustion and optimal operation. The benefits include:
Safety - Retractability, automatic cleaning and BLRBAC barrier
Improved service life - Automatic cleaning and ensured nozzle cooling
Optimized operation - Manual or electric angle control and nozzle centered in port opening
Safer to operate
Working close to the liquor gun opening can be hazardous. We have improved the working environment to simplify the job for the operators and to improve safety. The liquor sprayer station is easy to retract when adjustment of injection pipe and rodder is needed. The port cover pivots to cover the port.
Efficient and precise
The automatic cleaning of the nozzle and air opening not only increases safety for the operators, it makes removal of deposits noticeably more efficient, increases service life of nozzles and gives a uniform liquor distribution.
Ensured performance
The liquor sprayer rotates around the center of the air opening. The nozzle is therefore always centered, regardless of angle. This contributes to controlled air airflow and controlled liquor spraying dispersal at any angle. The even airflow has a cooling effect that extends the service life of the nozzle.
Easy to operate
Changes in load, start-up adjustments or changes in liquor quality that may cause the need for adjustments of the spray pattern are easily done. The angle of the liquor sprayer may be effortlessly adjusted. The angle variation is 20°. Local and manual angle adjustment is also available.
Improved boiler operations
Angle adjustment allows quick operator response to changing conditions. Observing combustion effects allows the operator to determine if the correct change has been made. The operators will have an excellent tool to control air supply and liquor distribution.
The Liquor Sprayer Station can retrofit any type of boiler with minimum invasive space and installation work. Liquor distribution is optimized with splash plate nozzle for large or small boilers and an optional beer can nozzle. Operation is optimized with spray pattern image capture and tuning. Valmet continues to develop add-on improvements in the area of sprayer automation and remote camera viewing.
How does the agreement program work?
Valmet will start by replacing the mill's existing liquor sprayers with Valmet's latest generation Liquor Spraying Stations. Valmet will then visit the mill regularly over a five-year period to adjust and maintain the stations in as-new operating condition.
For this equipment and regular maintenance, the mill enters into a five-year agreement with Valmet with a fixed cost per year. This covers all initial installation, equipment, spare parts, mobilization, refurbishing shop hours and on-site field engineer time. It includes liquor spray stations, onsite engineer for pre-engineering visit, installation advisor, startup advisor and annual liquor spray station rebuild/refurbishment.
Example ROI calculations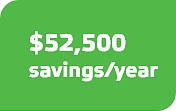 Improved Safety at Liquor Port: The liquor station has proven to be a good defense against the nozzle dislodging from its support and spraying outside the boiler, which exposes the operator to potential hazards. The double latching cradle and the larger attachment nut held the nozzle in position until the operator can stop the spray and change damaged parts and place the station back in service.
Lost time cost $10,500 based on 12 hour shift
5 incidents / year
0 incidents / year with the new stations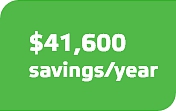 Nozzle Savings: Because the nozzles are cleaned continuously and the better position of the gun in the opening (centered regardless of the chosen spraying angle), the nozzles last longer. The nozzle and spray pipe design also help the nozzle to stay cooler and thus increase nozzle lifetime.
Current nozzle cost $600 each
Old nozzles lasted 3 weeks
New nozzles last 6 weeks
Savings of $600 each nozzle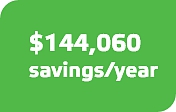 Steam Savings: Because the nozzle is cleaned often, the liquor spraying stays uniform and thus provides a more stable bed, improving both performance and steam savings. This translates to less steam to be produced by the power boiler and saves on natural gas consumption.
Current Mlbs/hour 0.43
Steam cost $15,340/Mlbs
Steam savings 0.001075 MLbsSteam/hour
Savings of $16.49/hour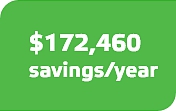 Chemical Savings: Because the spray nozzle can be adjusted properly with load (air vs liquor) and can keep the liquor distribution on furnace bed optimized, it helps dissolver keep the results number in a narrower range (better reduction, settling dregs, better dilution). Results in chemical savings are appreciable and could be quantified by easier dregs control in the green liquor clarifier.
Green liquor suspended solids 2000 mg/l
Lime kg-CaO/T90 6 kg/50 mg/l of GL
Green liquor susp. solids actual savings 250 mg/l
Lime purchased savings $472.50/mon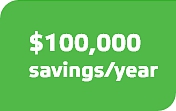 Reducing Boiler Wash: Because the liquor station can be controlled for optimum firing position in tune with the air system, operation has better control of carry over and thus eliminates boiler wash in between outages.
Recovery boiler wash cost $150,000/wash
Time between washes 8 months
New time between washes 12 months
All calculations were made using raw data from several USA mills with 8 liquor stations. Prices use 2015 costs for natural gas, chemicals, etc.
For more information about improving your liquor sprayer operations, contact your Valmet representative.