Pulp, paper, tissue and board making are characterized by expectations of constantly improving machine performance. Improving efficiency and quality through cleaner dryer and wet end fabrics is one of the many challenges to which Valmet can provide a solution.
Valmet Former Fabric Cleaner - efficient wet end fabric cleaning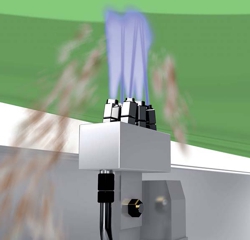 Valmet Former Fabric Cleaner is a true continuous forming section fabric cleaner operating during production. It also provides reliable cleaning for press section transfer belts. The fabric cleaner keeps fabric permeability at the desired level and significantly improves the permeability of old fabrics. The device reduces misting and there is no need to use cleaning chemicals with it.
Valmet Former Fabric Cleaner cleans the fabric against the roll from the paper side or in open draws. Cleaning is done with high-pressure water nozzles traversing across the machine width.
The cleaning head is a combination of needle and fan nozzles. The water consumption for cleaning is very low, only 5-10 l/min/cleaner.
Valmet Former Fabric Cleaner provides continuous and reliable cleaning for your forming section fabrics and press section transfer belts.
Valmet Dryer Fabric Cleaner - maximizes dryer fabric lifetime
Clean dryer fabrics deliver several benefits: a reduced number of breaks, dryer section energy savings, and improved paper quality. Valmet Dryer Fabric Cleaner increases production volume and maximizes the lifetime of your dryer fabrics.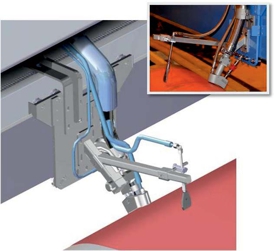 The fabric cleaner enables continuous or intermittent cleaning operation during production. It cleans the fabric on the paper sheet side with a high-pressure water jet supplied by the cleaning head travelling in the cross-machine direction. Water mist and dirt are removed by means of an air curtain and vacuum. An air comb blows the cleaning mist off the fabric to prevent wet streaks on the paper sheet.
Valmet Dryer Fabric Cleaner removes dirt by means of the cleaning head's high-velocity air flow generated by a vacuum unit. The removed dirt and water mist are conveyed through a pipeline to a cyclone separator in the vacuum unit, where heavy particles are separated from air and led to a container or sewer. The cleaning head, outlet pipeline and cyclone separator are flushed after a set of cross-machine cleaning sequences.
Reduced daily maintenance with Valmet Dryer Fabric Cleaner
Dirt is conveyed freely and efficiently through the outlet pipeline out of machine to a cyclone separator. There is no saveall or other components that would require extra cleaning or maintenance work.
The cleaning head is washed automatically at the washing station, located typically inside the hood on the tending side.The duration of the washing sequence and the cleaning head water flow rate can be adjusted.
Service at regular intervals ensures break-free operation of the cleaner, machine runnability and good end product quality. Valmet offers a maintenance service agreement which includes scheduled service visits combined with fabric inspections and measurements. Follow-up through a remote control system is also possible.
For more information on fabrics and fabric cleaning, contact your Valmet representative.