Modern high speed low basis weight machines remove water from the sheet with a nip load through felts onto roll surfaces, where it is transferred to save-alls with the help of foil doctors. In this case compressible light weight felts are used and roll covers are grooved.
However, for slower machines running high basis weights, water removal from the web in the press section is achieved with felts, which mainly remove water with the help of suction boxes (i.e. Uhle box dewatering). Lower nip loads may be used, along with felts with higher void volume. Rolls with grooved covers do not carry too much water - hence neither saveall pans nor doctors are required.
Uhle boxes clean the felt by pulling water and fiber from the felt as it passes over the vacuum zone. The traditional Uhle box cover is slotted and there is a break in vacuum on the felt. With slotted covers the felt will 'dive' into the slots and damage the seam on the seamed felt, reducing felt lifetime.
That being said, the Uhle box utilizes significant vacuum for felt conditioning, which is expensive. For a 350 inch trim machine running 3300 fpm with two shoe presses and four felts, the breakdown of operational cost of the press section split is shown in Figure 1. Note that vacuum energy is the third highest cost, after felt consumption and drive power. The Uhle box vacuum consumption accounts for one third of vacuum energy in the press section.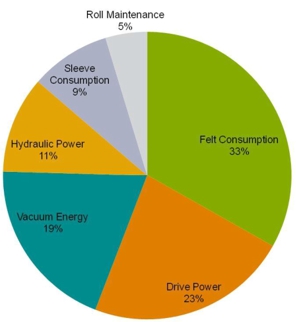 Perforated Valmet Uhle Box Cover
The perforated Valmet Uhle Box Cover is an effective and straight-forward solution to increase dewatering and reduce vacuum consumption in the press section. The more effective dewatering performance of a perforated Uhle box cover stems from the long dwell time in the suction area. The surface geometry of the perforation pattern improves water removal at a lower vacuum level. The cover provides stable support for the felt over the entire suction area; there is no 'diving' into slots as with conventional covers. Felts run longer. Figure 2 shows a Valmet Uhle Box Cover retrofitted to an existing Uhle box via an adaptor.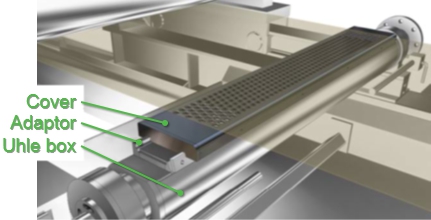 The Valmet Uhle Box Cover uses durable Valmet Hard Coating Solid on top of a thin stainless steel metal body. The holes (Figure 3) are larger than the cover thickness which results in low air flow resistance. There are 4 to 7 rows of holes in the machine direction. The hole pattern is engineered to have repeatable coverage at each point across the machine for uniform dewatering. As shown in Figure 2, the cover can be installed on existing uhle boxes with special adapters.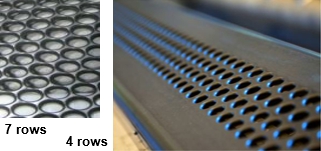 Results with Valmet Uhle Box Covers
The results shown in the following figures are from a board machine making 110-200 g/m2 fluting at 700 m/min speed and 7050 mm width. It uses a fourdrinier former and a two-nip straight through press running two slotted cover Uhle boxes. The mill wished to decrease splashing on the pick-up roll and improve runnability. Valmet provided a perforated Valmet Uhle Box Cover on the pick-up felt. The results included increased dewatering, better profiles and improved runnability.

The decrease in splashing at the pick-up roll may be seen in Figure 4. In addition, dewatering was increased 30% from 215 to 283 gpm and vacuum level decreased 27% from 15 to 11 inches Hg.
The Valmet Uhle Box Cover provides more dewatering at a lower vacuum level, thus saving energy costs related to vacuum (Figure 5). The more effective dewatering performance stems from the large open area and more uniform vacuum effect.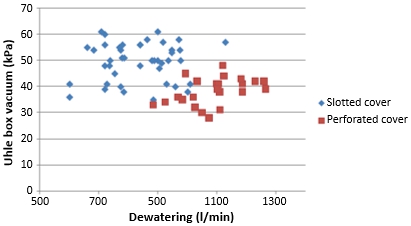 In addition, using perforated Valmet Uhle Box Covers provides a cleaner felt than traditional slotted Uhle box covers. The results over a two year period at a mill running the same age felts are shown in Figure 6.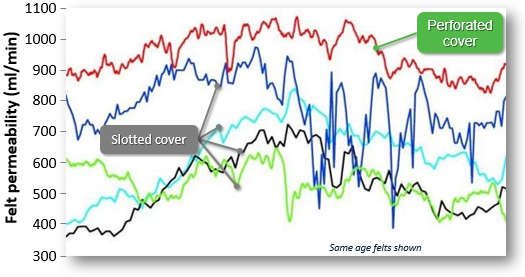 Felt moisture profiles are also improved using perforated Valmet Uhle Box Covers. The pick-up felt moisture profile using the perforated cover is very even when compared to slotted covers. Water removal efficiency is also better. Production machine results are shown in Figure 7 with similar runtime felts.
Applications
The perforated Uhle box cover has the most potential on:
Board machines 300-1400 m/min, 80-400 g/m2, main dewatering done with Uhle boxes, seamed felts in use or wish to start using them.
Board machine 300-1400 m/min, 80-400 g/m2, mainly nip dewatering, seamed or continuous felt in use.
Other applications include:
Tissue and pulp drying machines, on a case-by-case basis.
Mills that are planning to speed up and are adding felts in the press.
Mills with energy savings or runnability improvement possibility.
Benefits
In addition to the main benefits of lower vacuum-related energy costs, longer felt lifetimes and improved dewatering, the perforated Valmet Uhle Box Cover features:
No seams or joints, i.e. one continuous component. 'Piano key' marking is totally eliminated.
Uniform hole pattern spacing provides quick water evacuation and no wet streaks.
Thermal shock / impact resistance - no loose particles in the web or machine.
Valmet Hard Coating Solid covers can be recoated multiple times in the course of their lifecycles. Traditional ceramic covers can only be reground 2-4 times before a new cover is needed.
For more information on effective Uhle box dewatering, and the savings you may be able to achieve, contact your Valmet representative.