Supplier sustainability audit kicks off a cycle of positive developments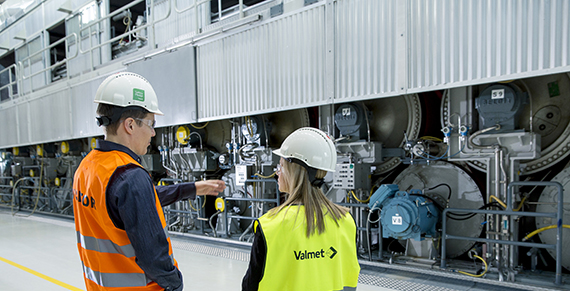 "All companies should demand responsible conduct from their suppliers and thus ensure they operate responsibly throughout the value chain. This means hard work, of course, but can really make a difference on our way towards a more sustainable future," says Laura Puustjärvi, Head of Sustainability at Valmet.
With 10,000 active suppliers across the world, the actions of Valmet's suppliers have a truly global impact. Valmet wants to ensure all its suppliers conduct operations in a responsible manner: with respect to human rights and the environment, as well as compliance to laws and regulations. It is also important for Valmet to know that the health and safety of the supplier companies' employees is looked after and that their working conditions, hours and pay are appropriate.
Systematic approach to ensure and enhance supplier sustainability
Valmet has developed a comprehensive process for supplier sustainability management. All suppliers are subjected to risk-assessments evaluations and must sign a sustainability policy, which acts as the basis for evaluations, self-assessments and third-party audits.
Since launching its Sustainable Supply Chain Management Program in 2014, Valmet has been conducting some 50 sustainability audits per year, totalling over 150 audits by the end of 2017. The benefits of these audits go well beyond practicing fair and just business; they are also a way to help the companies develop their business practices and attract new customers.
"It has been very satisfying to notice that our sustainability audits have led to highly positive outcomes for majority of our suppliers in many areas and ways," Puustjärvi explains.
"Some examples of these are stronger competitive advantage, better risk management, enhanced resource efficiency and an increase in customer satisfaction – all of which also impact our suppliers' financial performance."
Audit as an eye-opener
A key supplier for Valmet, a Polish steel-equipment manufacturer ŚFUP, was audited in 2015. The lead auditor from external 3rd party noted several findings during the sustainability audit.
Aleksandra Partyka, Trade Department Manager at ŚFUP, was astonished by the number of findings.
"We expected that there will be no findings at all! We had become blind to the issues the audit pointed out and would not have noticed them on our own," she says.
Valmet and ŚFUP went through the audit findings together, discussing the importance and impact of the issues, and agreed on an action plan.
"Valmet showed us how much there is to do and convinced us that all the corrective actions would pay off in the end. Valmet acted as an inspiring mentor in sustainability for us," Partyka comments.
It only took eight months to put all the corrective actions into practice. Valmet supported ŚFUP by sharing best practices and providing exact guidance. A re-audit showed that the company's sustainability actions now exceed our requirements.
Inspired by Valmet to see sustainability as an investment
The audit started a new phase at ŚFUP. The company has been truly inspired to develop more responsible operations with heavy involvement from the top management. In addition to developing internal processes, employee engagement has increased and a code of conduct has been introduced.
The company now has an ISO14001-certified environmental management system in place and has also started to implement a health and safety management system, with the target to receive OHSAS 18001 -certification by 2018. Following Valmet's example, ŚFUP has even introduced a code of conduct for its own suppliers and partners – work that already has given some results in a form of better product quality.
"We see all the hard work we have done as an investment in the company and have already gained clear business benefits through our efforts," Partyka concludes.