Mastering how well we can provide interesting and impactful opportunities for personal and professional development is a key component of our people strategy. Valmet is a complex, matrixed organization which enables us to develop through various types of internal moves – across business lines, between areas and between disciplines. These moves create unique understanding, bring new ideas, build diverse teams and strengthen our successor pipeline – all of which make us a stronger company.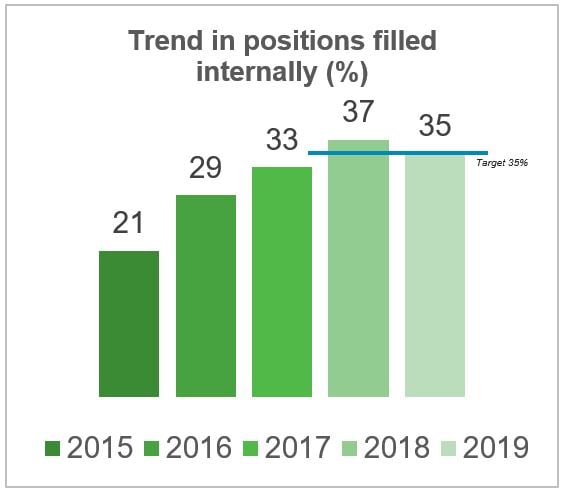 In 2019, we continued to benefit from active internal movement within Valmet by filling 35% of positions internally. The increase in internal movement came following the 2016 renewal of our internal mobility practices, which included a new internal only application period, internal recruiting, and optional HR development discussions for those not selected. These changes coupled with our robust annual talent review process – covering around 5000 successor, management and high potential resources – is a powerful combination when it comes to internal mobility.
"Internal mobility has had a very significant impact on my life both professionally and personally. Professionally it has enabled huge personal learning and growth and opened career opportunities that I could not imagine before. When looking at internal mobility from a business perspective, especially moves across different businesses, I see that it increases collaboration, break down silos and gives people the opportunity to see Valmet from another perspective and connect their network and knowledge with different parts of the organization. It also increases engagement," says Aki Niemi, President, Services business line.
Internal mobility creates new challenges and career opportunities through job rotation. It widens employees' capabilities, creates learning opportunities and helps in gaining a wider understanding of our organization. Internal mobility provides an opportunity to increase engagement and diversity in teams, fostering the development of new ideas, improved interaction and possibly fun at work – which ultimately, results in improved productivity and better performance.

Perspectives on internal mobility
Marko Avikainen, Finland
People. Pace. Cultural understanding.
Throughout my career I've actively looked for opportunities to challenge myself and learn new things. Early on, I developed a strong technical background through various roles in our paper business, first as a summer student, part time worker, then as a thesis worker and finally as a full-time Valmet employee. In 2001, I went to Vancouver and spent 19 months working on a paper structure measurement project. Since then, I have worked in paper analysis method development, paper process analysis, and paper technology before transferring to Valmet in Thailand, where I started to see how culture shapes business and the fast-paced world of services. Read Marko's story
Yutong Feng, Indonesia
Expand knowledge. New ways of thinking. Bring energy locally.
My internal move has really broadened my thinking. Until now, my focus has been mainly on Pulp & Energy – but in my new role as a country manager, I interact with the whole business from sales, services and project deliveries to finance, legal and public relations. I am also happy to have the opportunity to know other parts of the world with different ways of working and cultures. You really need to challenge yourself to find different approaches and suitable ways to reach the goals. Read Feng's story
Juulia Liimatainen, Finland
New perspectives. Leadership. Customer connection.
In 2016, I knew I needed something new. I had been with Valmet for ten years working with quality assurance and felt like I had seen everything there was to see. I applied for a role as a project manager and got it. It was a great decision, which forced me to step up, broaden my perspective and see the wholeness of a project. I had to see where we needed to go, what needed to be done to get there, and what surprises might pop up along the way. Read Juulia's story
Igor Panassol, Brazil
Challenges for those who want them. Great work pipeline. Different people and cultures.
The people around me have helped me navigate my career in Valmet. My first manager spent time in Sweden during her career with Valmet as well and inspired me to do the same. And in 2014 when I wanted a change, my manager supported me and opened up alternative paths to allow me to contribute to the company in a different role. It is not just the people, but it is the teams as well. I learned through my roles that you need to work and develop as a group to be strong and successful. Good teamwork is often the reason for success. It has been a great journey so far. I know there is more to come, even though I've already lived a lot within the company. Read Igor's story