Since the beginning of 2020, Valmet has supported Save the Children's Child Sensitive Social Protection Project in Dungarpur, in Rajasthan, India, where COVID-19 has significantly disrupted children's education. The project aims to develop the circumstances of poor and vulnerable children through increasing access to government social protection programmes and strengthening parenting skills to promote better care and nurture of children. In addition, the objective is to reduce child labour and increase school attendance.
At the moment, the schools in Dungarpur are opened for higher grades but continue to be closed for the lower grades. Online learning is not possible for many children as the needed digital tools are not available for the schools and students located in the distant Rajasthan state.
This has created severe challenges not only regarding children's learning, but also their health, nutrition and protection needs which the schools support. As a large number of the parents have lost their jobs, the risk of child labor has also increased when families search for additional sources of income.
Save the Children's project activities have been adjusted to meet the current needs of the children and their families during the COVID-19 pandemic.
"Our project team has worked to identify children who are at risk of being engaged in a harmful child labor. The team has shared information on COVID-19 situation within communities and organized additional trainings for teachers. In addition, we have provided school readiness kits to children and supported their studying with other measures as well to support their learning and safe return to school when it is possible again," says Katja Selkimäki-Gray, Save the Children's Portfolio Manager for Asia.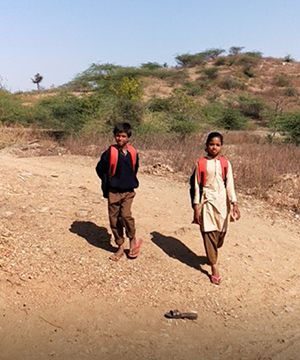 Poor families need support
Anamika*, 11, is one of the children whose education has been affected by COVID-19. Already before the pandemic, Anamika and her brother had dropped out of school as their father and stepmother did not want to let them continue with their studies as they couldn't afford it. Anamika was hoping to return to school, but the pandemic ruined her plans. After her father lost his job, Anamika had to take responsibility of providing additional income for the family and she began to work in a farmland.
Anamika and her brother's situation was discovered during the Save the Children's child labor campaign. The project team shared information to parents on the various social protection schemes and other benefits, such as school supplies and meals available for them to support their children's schooling. The project team also discussed with the parents about the benefits of education and the negative impacts of child labor and as a result was able to convince them to let their children return to school.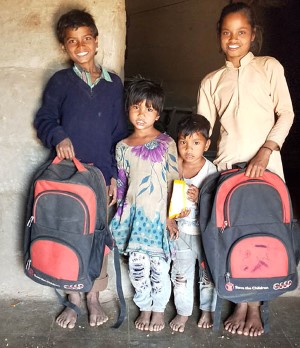 Anamika also received support in her studies, as a community member helped her to catch up on lost learning, so it would be easier for her to return to school. Now Anamika and her brother have both been enrolled back to school.
Continuous work to identify children who are out of school
In 2020, Save the Children's project in Dungarpur reached 1,700 children and 229 children were removed from child labor and re-enrolled in school. A total of 474 individuals have gained access to various government social protection schemes, and as a result, these families will receive regular financial support to look after their children.
"During this year, we will continue to work in identifying children who are out of school. Their re-enrolment back to school and continued studies should be supported, and their families should be linked to relevant social protection schemes to receive financial support. Furthermore, we will work closely with school administration as well as the local community to ensure children's safe return to schools," Selkimäki-Gray says.
*Name changed to protect identity.