To ensure its paper machine roll reliability and availability, the Kerinci mill in Indonesia has entered a full-scope roll service agreement with Valmet, including a condition monitoring system. This is Valmet's first roll service agreement combining roll maintenance and remote condition monitoring, and the results can already be seen in improved performance.
As part of the APRIL Group, a globally leading pulp and paper manufacturer, the Kerinci mill produces up to 2.8 million tonnes of pulp and over a million tonnes of printing and writing paper every year. Valmet began helping Kerinci with roll maintenance in 2014 on a consulting basis. When their PM 3 started up in 2016, the cooperation extended into a full roll service agreement, including remote condition monitoring and technical support.
"With this change, we wanted Valmet to move from an advisory role to having real responsibility for roll maintenance and workshop operations. Valmet is in charge of roll availability at our mill, for instance, by planning and executing the schedules and budgets for the roll changes," says Pasi Ahonen, Mill Manager at Kerinci.
Level of support pays for itself in profitability
Roll service is a specialized area of expertise and usually not the core competence of the mills' own maintenance resources.
"The reason for this service agreement is to gain value from predictive maintenance. The level of support pays for itself in increased profitability when we can avoid problems and unplanned shutdowns. Based on our location, we are not going to outsource everything, especially when we have a maintenance team of more than a hundred competent people of our own," Ahonen points out.
Long-term contract maximizes customer value
Under the roll service agreement, Valmet takes full responsibility for roll management and maintenance operations, as well as for technical support in developing roll maintenance. This includes planning the annual shutdown, as well as on-site and off-site service operations.
"We will also develop and maintain a five-year maintenance plan for all paper machine, winder and pulp dryer rolls, with scheduled roll exchange plans and cost estimates," explains Malcolm Anderson, Site Manager from Services at Valmet.
"Our goal is to build a long-term and full-scope roll management contract that adds value to the customer's processes through better roll maintenance capacity, and improved reliability and availability," Anderson continues. "One benefit, for instance, is that most of the rolls can be serviced on-site at Kerinci."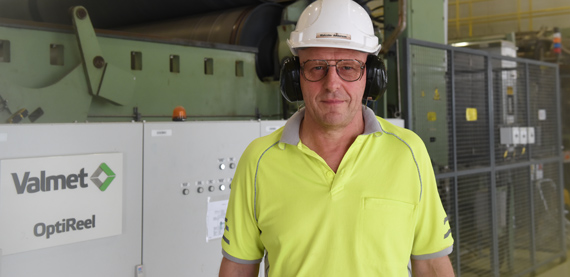 The value comes from the competence
"We don't need Valmet for changing the rolls. We have our own team for that. We need Valmet's advice and experience to avoid unwanted surprises," says Ahonen, describing the reasons behind the agreement. "As for value, it is mainly a question of competence: it's much wiser to depend on people who do this as their main job and have long experience in roll maintenance," he comments.
Benefits of condition-based maintenance
An important part of the agreement is the remote condition monitoring, which consists of machine and vibration analysis as well as a monthly report of the machine's health with the findings of the analyses, on-site visits and on-call support. Valmet Condition Monitoring provides 500 measurement points per machine, checking the trends and vibration changes through a secure remote connection.
"Using remote analysis, our customers get improved visibility over the condition of their equipment. This way, problems can be detected before they develop into machine failures," Anderson emphasizes.
"As a result, we can plan maintenance operations based on real needs, and not just on regular schedules," Ahonen adds.
One plus one is more than two
This is the first time that roll maintenance and remote condition monitoring services have been combined into one Valmet roll service agreement.
"We think that one plus one is more than two, and that, in this way, we can offer all the benefits of predictive maintenance in one contract," says Krister Sällinen, Director of Automation Services at Valmet. "With vibration-based online condition monitoring, we can identify the root causes of vibrations that interfere with the machine's runnability. For instance, vibrations in the press may be caused by felt problems, rather than the rolls themselves."
"Our customers save money by having fewer unplanned shutdowns, and better availability and longer lifetimes for their rolls."
A shared journey forward
At the Kerinci mill, the Valmet on-site team works closely together with the mill's own maintenance people – teaming up for a shared journey forward!
"One of the best aspects of Valmet is its people. Together, Valmet and our maintenance team provide on-site competences that can ensure roll availability, reliability and high performance," Ahonen says, describing his satisfaction.
The Kerinci mill works with three Valmet paper machines, which all rely on the Valmet roll service agreement with remote condition monitoring. The scope of this agreement is developing all the time, depending on the mill's needs. As the next step, full shutdown support is being considered and tested.