As a pioneer in ceramic coatings, Valmet has gathered its decades of experience to introduce a new generation of ceramic roll covers for lead rolls. In containerboard machines, these hard and extremely durable coatings ensure longer run time and better reliability.
Modern, wide, high-speed containerboard machines operate in demanding conditions in terms of machine component wear. Forming section wire rolls offer a typical example of components that require uncompromised wear protection. The universal task for roll covers in the forming section is to maintain roll dimensions such as the roll diameter profile in the CD so that the wires can be rotated and guided smoothly and gently in the rolls without slipping or other problems. Valmet's lead roll covers are designed to protect the rolls in a harsh, abrasive and wet environment.
Long live the forming section rolls!
Constantly exposed to water, the forming section wire rolls are liable to corrosion, which soft materials like rubber cannot withstand. These problems sometimes occur more quickly than the previous ones can be fixed, leading to declines in production.
"Such a situation can easily become a vicious circle," Juha Ruotsi, Global Technology Manager of Valmet Rolls and Workshop Services says. "Valmet's ceramic coatings facilitate ultra-high wear resistance and corrosion protection. As such, they can also ensure a reliable solution in circumstances where the traditional rubber rolls wouldn't be an option," he continues.
"When rolls have bulletproof wear protection, the safety margin against problems that decrease production efficiency increases remarkably. Ceramic coatings provide longer maintenance periods with no need for regrinding. Mills benefit from longer lead roll run times and maximal roll and fabric lifetimes," says Ruotsi.
From paper to board – soft to hard
The need for harder coatings often arises when the produced grade changes from paper to containerboard, which is a typical market-driven change for mills in today's Europe.
"Along with the grade change, wire width and speed can create conditions that cause excessive wire roll wearing. Large wire widths lead to long rolls, whose shell lengths can be as much as nine meters. Controlling wire roll alignment and bending in a dynamic situation is a complex equation. A common problem resulting from this situation is tube roll surface wear due to a slight slippage of the wire on the roll surface. Contamination in furnish and inadequate doctor lubrication are of no help either," Ruotsi explains. "Our ceramic coatings enable good doctorability, with less need for lubrication and low doctor blade wear, which helps avoid such problems."
"Only diamonds are harder than ceramics"
Ceramic coatings are based on the industry's hardest and stiffest materials. Compared to other materials, ceramics are harder than granite, cast iron and even stainless steel. "The hard fact is that only diamonds are harder than ceramics," Ruotsi declares.
As a ceramic coatings pioneer in the paper industry, Valmet protects the wire rolls with proven experience in thermal spraying and solid forming section technology expertise. Now, gathering its decades of experience, Valmet is introducing its new generation of ceramic coatings: Valmet Lead Roll Cover WJ covers.
"From the technology perspective, this new generation meets the challenges of the previous applications," Ruotsi states. "For example, we've further developed the raw material design and the thermal spraying technology to ensure a solid coating structure in the roll ends as well."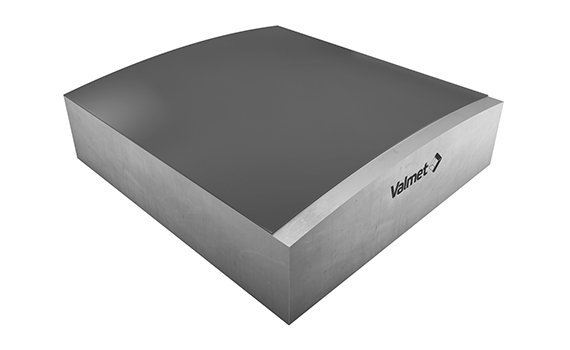 Mondi selected reliability
Mondi Swiecie S.A. is a leading containerboard producer in Europe. Its paper machine "ECO 7" is one of the major containerboard machines in Europe and undeniably the largest of its kind in Poland. The machine was originally built in 2009 by Valmet, and it has already undergone some performance and quality upgrades. Mondi Swiecie selected Valmet ceramic coatings to protect its wire rolls. Ceramic coatings have now been used successfully for their ECO 7 forming section rolls for several years. To date, Mondi has selected three more ceramic coatings from Valmet. According to Robert Raniszewski, ECO 7 Line Manager, Mondi values the extreme durability and reliability of these coatings. "We prefer a situation in which the lead rolls can be left in the machine for several years without having to repair or even think about them."