Liansheng Paper and Valmet share a long and extensive technology, services and automation partnership. Their annual fabric agreement ensures timely fabrics service and allows continuous development.
On November 8, 2021, the Valmet team paid a special visit to Liansheng Paper Industry (Longhai) Co., Ltd. and had a fruitful discussion with the General Manager Zhang Yongchun and his management team. They discussed the cooperation experience and future cooperation with Valmet's fabrics team. "Engaging," "attentive," "pleasant," "timely" and "effective" were the sincere feelings about Valmet's cooperation with their Liansheng colleagues.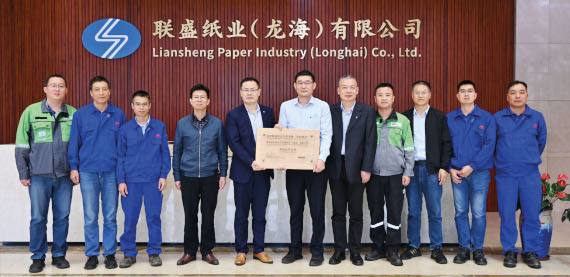 Detailed discussions were also held on the future cooperation model, and a comprehensive summary was made of both parties' experience of creating success together. Zhang Yongchun explained that their partnership with Valmet began with PM5 and PM6, and the cooperation had continued to deepen. He said they currently had extensive tie-ups on PM10 and other operational machines, and they were determined to cooperate on the white cardboard machine and printing paper machine in the pipeline. He added that an annual fabric agreement had been signed to ensure timely fabric supply.
Press felts provide advantages
Referring to future market changes and technology development, Wang Cailin, Production Manager of PM5 and PM6, shared the support and benefits that Valmet's felt technology brought to Liansheng: "Valmet felts demonstrate their obvious advantages on PM5 and PM6. Their intensity is excellent, and they don't lose lint easily. In particular, the felts became more effective after Valmet's fabric experts suggested we increase the line pressure of the third presses by 100 KN/m. Meanwhile, the interlayer bonding force of the paper web was significantly enhanced after the line pressure was increased."
"The current constant fluctuation and dearth of raw materials pose a bigger challenge to the adaptability of fabrics, especially felts. This means Valmet needs to keep strengthening its cooperation with Liansheng Paper," added Zhang Yongchun.
Strengthening cooperation to better serve the future
In sharing Liansheng Paper's operating experience, Zhang Yongchun, commented that their production and sales departments were now working together to schedule production, with various products produced at different stages over the service life of felts. He explained this could help improve the service life of felts and thus enhance production efficiency, enabling them to achieve efficient and low-carbon development.
Valmet's fabrics team provides very effective and timely support.
Commenting on the further cooperation between the two parties, Zhou Zhiqiang, Senior Production Manager of PM7 and PM9, shared their hopes for the continuation of Valmet's cooperation and teamwork with Liansheng Paper in improving the paper machines' efficiency.
Ma Zheng, Director of Business and Services for Valmet's fabrics business, commented sincerely: "Liansheng and Valmet have produced outstanding results together. We will continue to deepen our cooperation with Liansheng Paper."
Text: Betty Cao