A modern airborne dryer is a cost-effective solution to get the precise output and quality you require. Valmet is specialized in both large and small Airborne dryers that are tailor-made to meet your specific drying needs.
"A modern Airborne pulp dryer can boost your capacity and output from the drying line," explains Richard Solin, Product Manager for Valmet's Airborne pulp dryers.

"We also have extensive experience with rebuilding and adding the latest innovations to Valmet dryers, as well as those from other suppliers, to easily and cost-effectively improve your overall equipment performance."
Large dryers for large production volumes
Valmet has several times proven the ability to scale up machinery to handle really large production capacities. The largest one being the installation of the Airborne pulp dryers at OKI, which are the largest machines in the world with the highest ever production. OKI mill has two pulp drying machines, each with a width of 10.6 meters. Since the start-up, several production records have been registered. Each of the records was a new world record. In June 2019, the production record for both machines combined is 8,630 air dry tonnes (ADT) in one day, and 4,360 ADT for a single machine. "Building these was an immense technical and logistical challenge both for Valmet and OKI. An excellent cooperation and common goals made it possible," says Solin.
Small dryers for small production volumes
For certain customers, there is a need for just a small amount of additional drying capacity and for this, small dryers are available. "Valmet's small dryers are mainly in demand by customers who produce various specialty pulps. Our small dryers have the same quality and advanced technical functions as our large dryers. The key point is that Valmet's Airborne Dryer is a modular solution that is easily scaled up or down to perfectly adapt to each customer's needs," states Solin.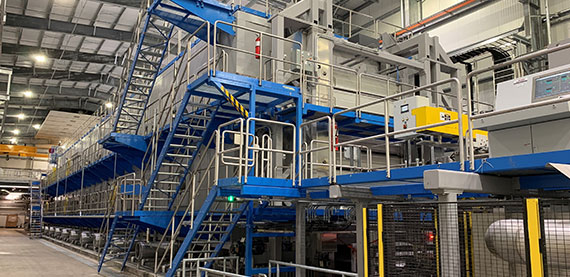 Increased flexibility at Nippon Dynawave Packaging
Nippon Dynawave Packaging (NDP) bought a new pulp drying and baling line which started up at the end of 2020. The technical solution was crafted together with the customer for a smaller size machine. The installation has increased flexibility and the mill can now adapt to the market, choose the most economical fiber for the moment and maximize its pulp production capacity. A safe working environment has been of the utmost importance.
"We're expecting the new production line to be the safest in the facility. Beyond that, we expect the new line to offer world-class reliability, and to be energy efficient and as productive as any pulp line in the world per width of production," says Andrew Cooper, Vice President, Operations at NDP.


TEXT: Kristofer Sjöblom and Hugh O'Brian
PHOTOS: mmsdreamteam.com, Hannes Frigård and Rodger Rauch