An important milestone was reached at Metsä Group's bioproduct mill in Kemi in May, when the mill reached its roof height. The milestone was celebrated with the topping out ceremony in May 2022. This traditional ceremony is usually organized at construction sites, when the roofs have been completed, and the buildings have reached their maximum height. This time the ceremony was held only for the site's employees due to coronavirus precautions.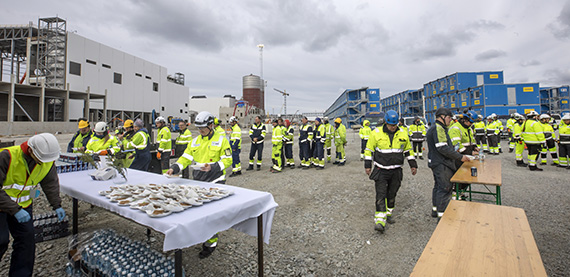 The traditional topping-out ceremony "harjannostajaiset" was arranged at the Kemi bioproduct mill site in May (Photo Nina Susi)
CEO Ismo Nousiainen, Project Director Jari-Pekka Johansson, Construction Manager Eelon Lappalainen and On-Site Contact Person Mika Vuoti gave the keynote speeches in the event.
Next special transportations started
During May to July totally 25 pieces of large components will be transported through Kemi downtown. These include the bioproduct mill's evaporator units, debarking drums and titanium towers. The largest pieces are the 15-meter wide, 510-tonne evaporator units and the longest ones are the approximately 65-metre-long reactor towers.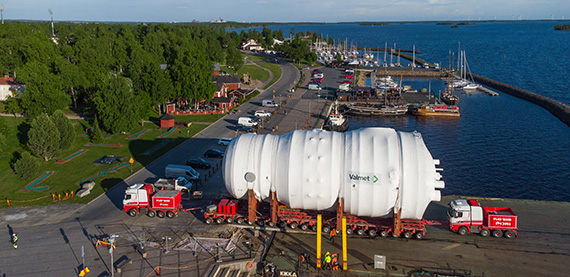 10 evaporation vessels were transported via the city harbor to the Kemi bioproduct mill site in late May-early June. (Photo Mika Ahonen)
The transports move at walking speed, so it takes approximately four hours to transport a single component from the inland port to the mill's construction site. For this reason, transports will be carried out during evenings and nights.
The first special transportation were done in October-November 2021, when the cooking and impregnation unit components were transported to the site.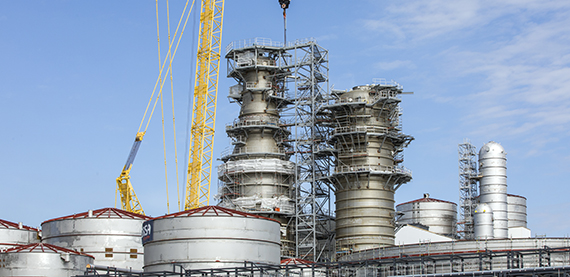 The cooking components were transported to the site in October-November 2021, and erected during the winter months. (Photo Nina Susi)
Start-up in the third quarter of 2023
The project is progressing according to plan and on schedule. Approximately 1,800 people are currently working at the site. The mill's start-up is scheduled in the third quarter of 2023.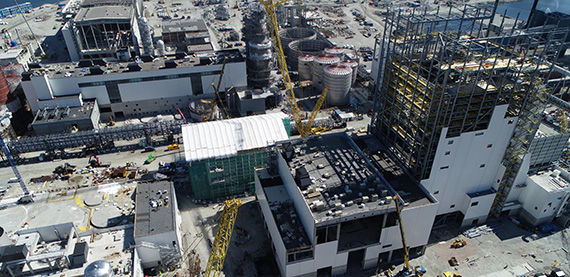 (Photo Mitta Oy)

You can follow the progress of the bioproduct mill project on Metsä Group's Kemi site, as well as the progress of the construction of the product warehouse at the port of Ajos, through Metsä's web cameras.
More information about the project
Totaling EUR 1.85 billion, the investment in Metsä Fibre's, part of Metsä Group, Kemi bioproduct mill is the largest in the history of the Finnish forest industry. An estimated 15,000 different persons will be working during the construction phase.
Valmet is delivering the full production process from wood handling to baling, designed to produce both softwood and hardwood pulp, as well as the automation system for the whole mill, including features from Valmet's Industrial Internet (VII) offering. The project also includes a rebuild of the existing fiberline.
Valmet's project delivery includes the engineering, procurement and supply of the mill's main process islands, as well as construction management using an Open Book delivery model.